[22/03/2023 06:25]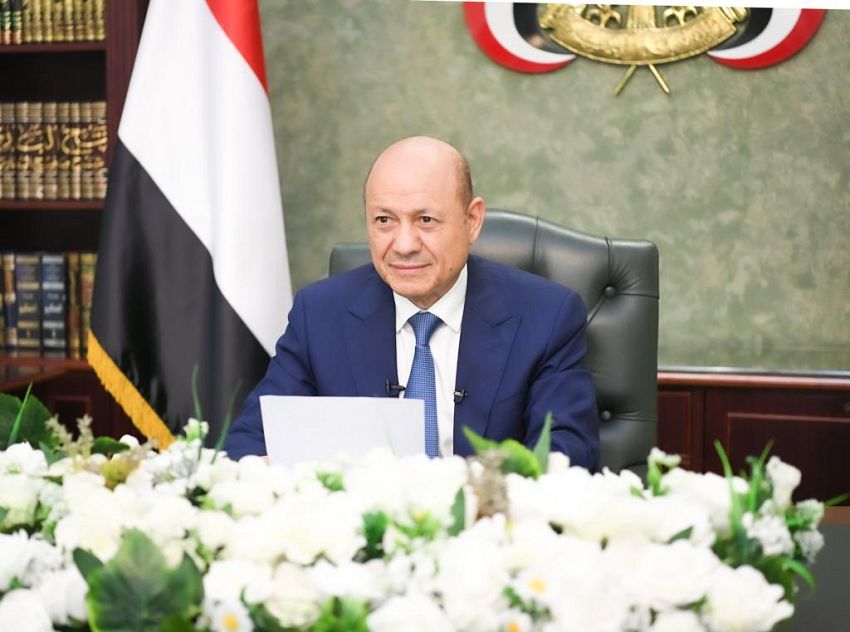 ADEN-SABA
His Excellency President Dr. Rashad al-Alimi, Chairman of the Presidential Leadership Council, hailed the coherence of the national unity and the unanimity of International Community as it is stronger than ever before about the Yemeni cause, struggle for restoring the State's institutions, eliminate the Iranian regime backed Terrorist Houthi militias' coup.

In address to the nation on the advent of the Holy Month of Ramadan he said " It is the Grace of the Almighty Allah that the Holy Month of Ramadan comes this year while we're stronger, our national alignment more coherent and determined to defend our republican system and national identity".

His Excellency reiterated his support for all efforts aiming to maintain the humanitarian truce, establish a comprehensive cease-fire start with the Month of Holy Ramadan.

The President called on Houthi militias to invoke the spiritual values of the Holy Month of Ramadan and stop profiting from the warfare economy, disparity of currency exchange rates at the expense of the Yemeni peoples' sustenance and livelihoods.

In the speech delivered on his behalf by Minister of Endowments and Guidance Mohammed Shabibah, His Excellency congratulated the detainees who are set to be released from the Houthi militias' jails under the recent prisoner-exchange deal, affirming that the Presidential Leadership Council and government will save no efforts to get the remaining detainees released including Mohammed Qahtan and Maj.

General Faisal Rajab who are covered by the International Security Council resolution in relevance.

President al-Alimi recalled the anniversary of the "Decisiveness Storm" the intervention of the Saudi-led Arab Coalition in support of legality in Yemen which its anniversary corresponding with the advent of Holy Ramadan saying it is a day will do deeply down in Yemen's and Arab nation history, as the brothers in the Kingdom of Saudi Arabia responded to the duty call in line with the instructions of the Prophet of the Muslim Nation and based on article 51 of the UN's Chatter which authorize the free world countries to self-defense, offer a hand of help to deter any armed aggression, take every necessary measure to preserve the international security and stability.


---

President al-Alimi receives Norwegian foreign minister

Leadership Council chairman meets US Secretary of State

Leadership Council chairman receives UN Special Envoy

resident al-Alimi congratulates Italian President on his country's National Day

President al-Alimi receives American Ambassador

Leadership Council chair praises GCC for supporting Yemen and its just cause

President al-Alimi congratulates Turkish president on winning elections

President al-Alimi convenes high-profile meeting includes Speakers of Parliament, Shura Council

President al-Alimi praises UK's support for the Yemeni people

President al-Alimi receives Ambassador of the People's Republic of China