[10/01/2022 08:03]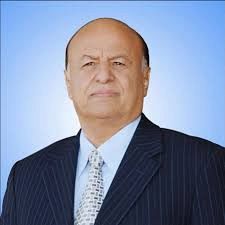 RIYADH - SABA
The President of the Republic—Felid Marshal—Abdu Rabbu Mansour Hadi, Commander-in-Chief highly praised heroic fighting and deeply appreciated the great sacrifices have been made by the National Military troops in the ongoing battles against Iran-allied Houthi militiamen.

He celebrated the significant military advancements realized recently in Shabwa governorate where the government's troops have managed to drive the militiamen out of the districts of Bayhan, (Osailan, Bayhan, al-Ain).

" Retaking Bayhan districts of Shabwa governorate from the rebels is a startup move on the path to wrest all regions from the Iran-backed Houthis rebels", Hadi said.

His comments came in a telephone conversations he conducted today with the governor of Shabwa governorate Awadh al-Awlaki.

The President expressed thanks and gratitude to the Saudi-led Coalition's key role in backing up the government's troops in the battles against Iran-backed Houthi rebels.

The governor reported to the president about the local authority to normalize the situations in the governorate.


---

President al-Alimi congratulates Ethiopian President on National Day

PM reports to PLC about economic situations, basic services

PLC discusses military, security file

President al-Alimi receives cable of congratulation from German President on Yemen's National Day

President al-Alimi confirms significance of UK support to Yemen's economy

President al-Alimi receives Dutch delegation

Al-Alimi receives congrats from US president and other world leaders on National Day

Al-Alimi receives congrats from world leaders on Yemen's National Day

resident Al-Alimi receives congrats from the King of Morocco on Yemen's national day

President receives congrats from the President of the UAE