[02/12/2021 07:33]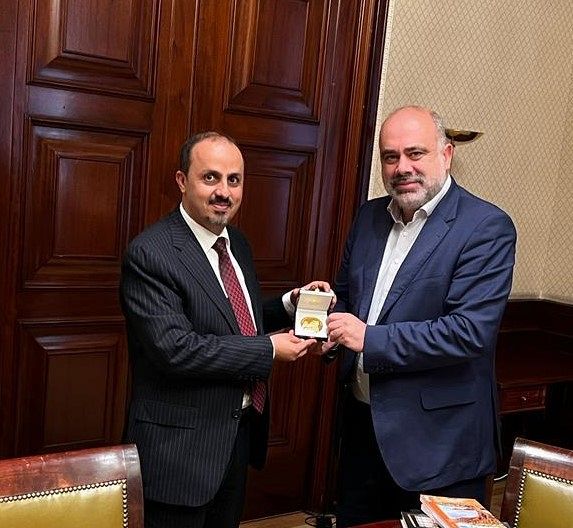 MADRID-SABA
Minister of Information Culture and Tourism Maummer al-Eryani met here today, Thursday, with the Chair of the Committee on Foreign Relations in the Spanish Parliament Marie Cluzah.

He provided an informative report about the situations in Yemen, grass roots of the Yemeni dilemma created by Houthi militia's coup d'état and its subsequent ongoing war, government's endeavors and efforts aimed to stop the war, establish peace, the militias' intransigence, insistence on going on fighting, refusal to come to peace, grave violations and atrocities against the civilians and IDPs.

He stated that the legitimate government has been very keen to make peace, extending significant concessions to this end but the Houthi militias have continued to reject all peace proposals undermine the UN-led efforts, pay no attention to the Yemeni peoples suffering.

He cited the militias serious violations including executing outside law, tortures, arbitrary arrests and kidnapping, bombing the opponents' houses, recruiting more than 30,000 children, the figure is expected to come up to 50,000 according to Human Rights Groups anticipations, engaged them in frontlines battles, shelling residential areas and civil facilities with ballistic missiles and drones.

He stated that all these abuses have been committed by the militiamen on daily basis while the international community has continued to turn blind eye on the militias' atrocities.

The Spanish lawmaker has confirmed Spain's support for the Yemeni legitimate leadership represented by President Hadi, the UN-led efforts to end the war, re-establish peace, security and stability.

He also renewed the Spanish government's support for Yemen's unity, sovereignty and territorial integrity.


---

President of Leadership Council, Chinese President discuss latest Yemen developments

Chinese-Gulf Summit affirms support for Leadership Council in reaching solution

Supreme Council of Gulf States affirms support for Presidential Council

Saudi Arabia Crown Prince affirms support for efforts of comprehensive solution in Yemen

Parliament Speaker inspects expanding constructions in Makah Port

President al-Alimi arrives in Riyadh to contribute to Arab-Chinese Summit

Al-Eryani: Iran's regime continues supply Houthi militia with weapons

President al-Alimi flies to Riyadh to participate in Arab-Chinese Summit

Basohaib discusses with Pragma capacity building program for planning ministry's personnel

Japan offers package of humanitarian aids worth $19 million