[22/05/2019 11:41]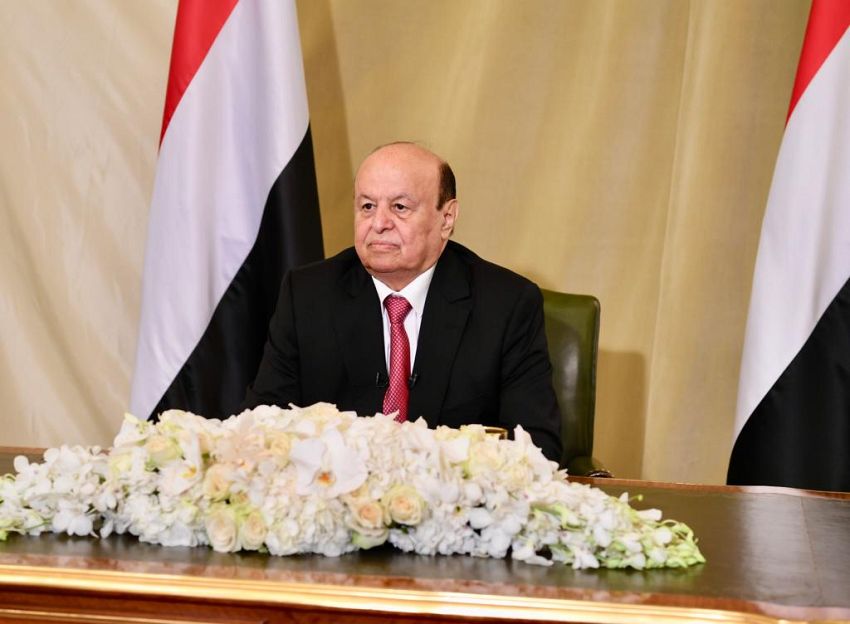 RIYADY-SABA

President Abd-Rabbo Mansour Hadi has said the international community must know that they deal with gangs and mafias controlling Sana'a do not accept constitution and laws and only believe in weapon as arbiter between them and others.

Yemeni people has suffered more from Houthi racial and sectarian agenda supported by terrorist and evil Iranian regime, said President Hadi in the 29th Anniversary of Yemeni Reunification on the 22nd of May 1990.

The real situation in their held-areas confirms that they are just gangs for killing, suppression, looting and destroying Yemeni national fabric based on variability and consensus, he said.

"It is time to the world to take into consideration the real treatment to this suffering will not be considering rebels' feeling and believing their lies," said President, confirming that the Yemeni people deserves decent life and real peace not the savage militias, who rebelled against the state and trampled national consensus and UN resolutions.

He added that the war imposed by Houthi militia on the Yemeni people since storming the capital Sana'a on the black day of December 22, 2014 inflicts our people more pains and injuries and depleting its capabilities and wealth and even its dangers extend to the region and the whole world.

President talked about Yemeni people's dream of unity in the past and their joy of realizing their great dream as historical deed reflected struggle of Yemeni loyal heroes, confirming protecting it against small projects threating it.

"Despite exerted efforts in the inclusive National Dialogue Conference for having the best form, we must draw attention Yemeni unity in its just shape is still facing dangers and threats," he said, adding it faces aspirations of greedy and illusions of those who want to take control of Yemen.

He reviewed phases of talks after the coup of "evils" and their rejection of the national dialogue conference and imposing weapons as the only language in dealing with Yemeni people, inquiring why rebels did not seize opportunities for peace, why they did not agree on humanitarian initiatives for releasing prisoners, detainees, kidnapped and forcibly disappeared people if they are rue.

" Fighting has been imposed on us for defending our homeland, people, values of freedom, justice and equality deep rooted by Yemeni people's revolutions against racial imamate rule and foreign occupation," said president.

"We do not have passions for war and killings."

Despite all of these pains and sacrifices, we have been extending our hands for peace and calling our brothers who waged war against us and destroyed everything beautiful in our lives to return to right path, peace and consensus, said President Hadi.
"But unfortunately, we got only stubbornness and insistence on killing and destruction."




---

Presidential Leadership Council considers repercussions of Houthis' terrorist attacks

President al-Alimi congratulates Kazakhstani president on reelecting him for second term

President al-Alimi praises the Chinese supportive stance in support of the Yemeni people

President al-Alimi receives ambassadors of Australia, New Zealand to Yemen

President al-Alimi praises international support for the Central Bank of Yemen with $300 million

President al-Alimi meets with Ambassadors of P5, European countries

resident al-Alimi meets with Shura Council leadership

President al-Alimi leaves Sharm El-Sheikh after contributing to COP 27

President al-Alimi participates in German work session on climate changes

President al-Alimi highlights Yemen's need for greater support by the United Nations to improve basic services