[12/03/2018 01:58]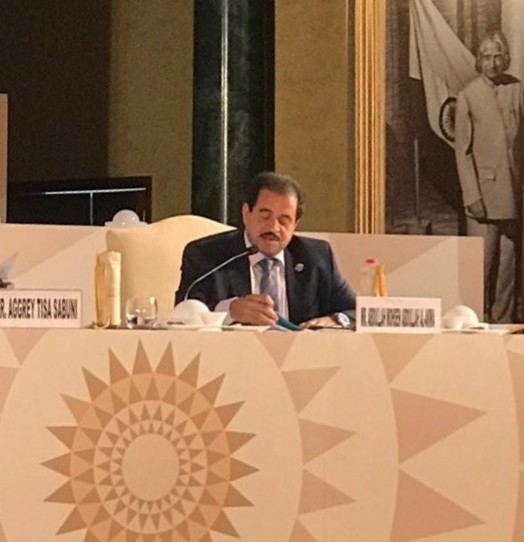 NEW DELHI-SABA
Yemen, represented by a delegation that Minister of Electricity Abdullah al-Akwaa heads, has participated in the first summit of the International Solar Alliance held in the Indian capital New Delhi on Monday. The aim of ISA is to promote solar energy and reduce dependence on fossil fuels in sunshine-rich countries.

India's Prime Minister Narendra Modi inaugurated the summit which brought together 21 heads of 64 states that had already signed the Accession Agreement to the treaty of the alliance.

Delivering Yemen's speech, al-Akwaa said the Yemeni government has, since 2016, been keen on joining the ISA saying Yemen is benefitting from the financing mechanisms of the World Bank-backed alliance.




---

Yemen won't be fine as long as terrorist militias continue to kill & besiege our people, says Hadi

Hadi phone calls Marib governor to inspect situations

Hadi checks on health of Aden Governor, Minister of Agriculture

President Hadi orders probe into assassination attempt targeted Aden Governor, Agriculture Minister

President orders providing relief aid to those affected by the floods in Hadhramaut

President directs providing help to people in Hadhramout over heavy rains

President Hadi congratulates his Egyptian counterpart on the 6th of October Victory

President congratulates German counterpart on unity anniversary

President Hadi to Borrell: Our hands are still extended for peace

President Hadi meets German deputy foreign minister