[17/02/2018 01:45]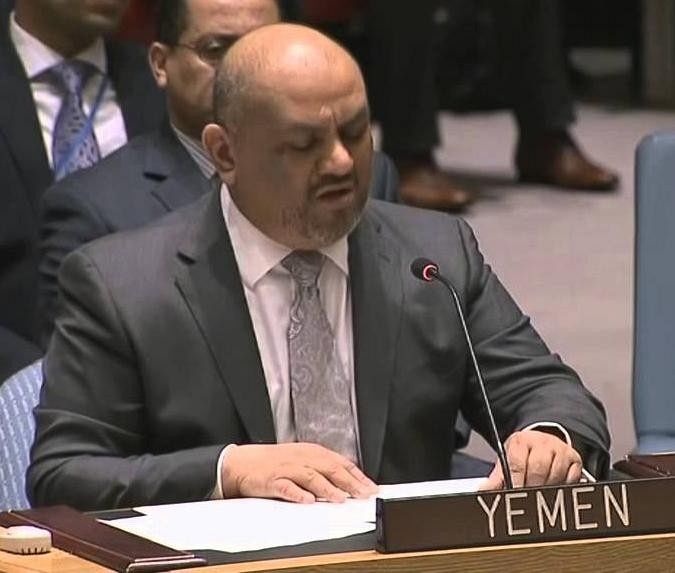 ADEN-SABA
The government of Yemen has welcomed the United Nation Secretary General's decision of appointing Martin Griffiths of the United Kingdom as his Special Envoy for Yemen succeeding Ismael Ould Cheikh, whose contract ends by the end of this February.

"Peace and sustainable political solution in Yemen cannot be realized without commitment to fixed peace references in the Yemeni crisis represented in the Gulf Initiative and its executive mechanism, the outcomes of the National Dialogue Conference and related Security Council's resolutions, specifically the Resolution 2216," said Yemen's Permanent Representative to the UN Khaled al-Yamani.

In a letter directed to the UN Secretary General Antonio Guterres, al-Yamani confirmed significance of implementing resolutions related to Yemen by the Security Council and to impose Houthis to surrender to the international resolutions not to be rewarded for their crimes against humanity so as armed gangs and militia across the world do not dare to rebel against legal governments and to avoid spread of chaos and terrorism.

It is time to end suffering of the Yemeni people and the government of Yemen looks forward to the same constructive soul of the new envoy and his flexibility for achieving sustainable peace ending lasting suffering of the Yemeni people since Houthi coup in September 21, which led to killing and displacing thousands and destroyed health and educational infrastructure, said al-Yamani.

Griffiths is a former UK diplomat with long experience of solving disputes, managing negotiations, mediation and humanitarian affairs.

Until recently he has been executive director of the European Institute for Peace.






---

Reconciliation Authority discusses latest political, economic developments

Marib: Local government discusses impact of floods on IDPs

President and members of the Supreme Judicial Council

Leadership Council holds first meeting with the judiciary

Yemen condemns Israeli aggression on Gaza Strip

UNOPS' team gets acquainted with road projects in Aden

Finance ministry, Pragma Corporation discuss implementing unified banking system

Presidential Decree on restructuring Judiciary Council issued

Promoting humanitarian partnership between Marib, MSF discussed

Al-Zubaidi meets Governor of Hadhramaut