[28/09/2017 03:18]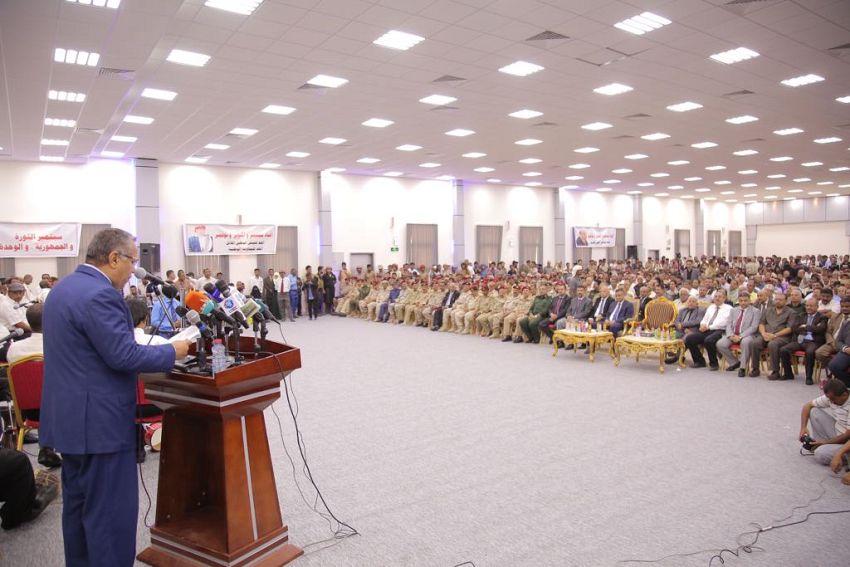 ADEN-SABA
Prime Minister Ahmad Obeid bin-Daghr has said Houthi-Saleh's coup on the state failed to topple the republic even if they seized its capital.

In a speech he delivered in a ceremony for commemorating the 55th anniversary of the 26th of September Revolution held in the transitional capital of Aden on Thursday, bin-Daghr confirmed that the republicans and the free people are steadfast on the ground and the people still rejecting return to ethnic and racist hateful past.

When Iranians intervened in helping the militias, Arabs, under the command of Saudi Arabia and with rare historical decision, ruched to ban this interference and stopped Iranian influence in the region.

Our celebration in the revolution and the republic in Taiz with participation of high ranking officials expresses our determination on beating the coup and combating the new Imams and their allies, who preferred savory and shame living under their shade, he said.

We will fight the Imamate, bring victory for the republic and we will creep towards them with the republicans form everywhere, he added.

He thanked all countries of the Saudi-led Coalition for supporting Yemen and for their decision in fighting the rebels by the Yemeni side.

He talked about national issue in the transitional capital of Aden and in all the liberated provinces of regaining permanent peace and stability. He talked about efforts they exerted in providing services to the people in Aden.

While he talked about providing suitable and security conditions to the judiciary and judges and to prosecutors, he called for banning military appearances in Aden as carrying weapons in Aden is prohibited. He voiced determination on fighting terrorism and cracking down its cells wherever they are.

" We will do our best to unify the political and military decision in the country… and we will start during the forthcoming days with integrating military units… as keeping these units as they are poses a danger to our security," he said.

He concluded with renewing support to efforts of the UN envoy to Yemen for achieving peace. "We considered all suggestions of the UN envoy, which are rejected by Houthis and Saleh, as steps towards just and objective solution to Yemen crisis. And the just and objective solution from our and majority of our people viewpoints is that based on respecting the references that protect the republican regime and federal unity."





---

President al-Alimi confirms significance of UK support to Yemen's economy

President al-Alimi receives Dutch delegation

Minister al-Sharjabi discusses with Dutch officials Yemen's water, environment

PM receives British Ambassador in Aden

Al-Alimi receives congrats from US president and other world leaders on National Day

Al-Alimi receives congrats from world leaders on Yemen's National Day

emen participates in the WHO's General Assembly Sessions

resident Al-Alimi receives congrats from the King of Morocco on Yemen's national day

President receives congrats from the President of the UAE

Al-Alimi receives congrats from Kuwait on Yemen's National Day