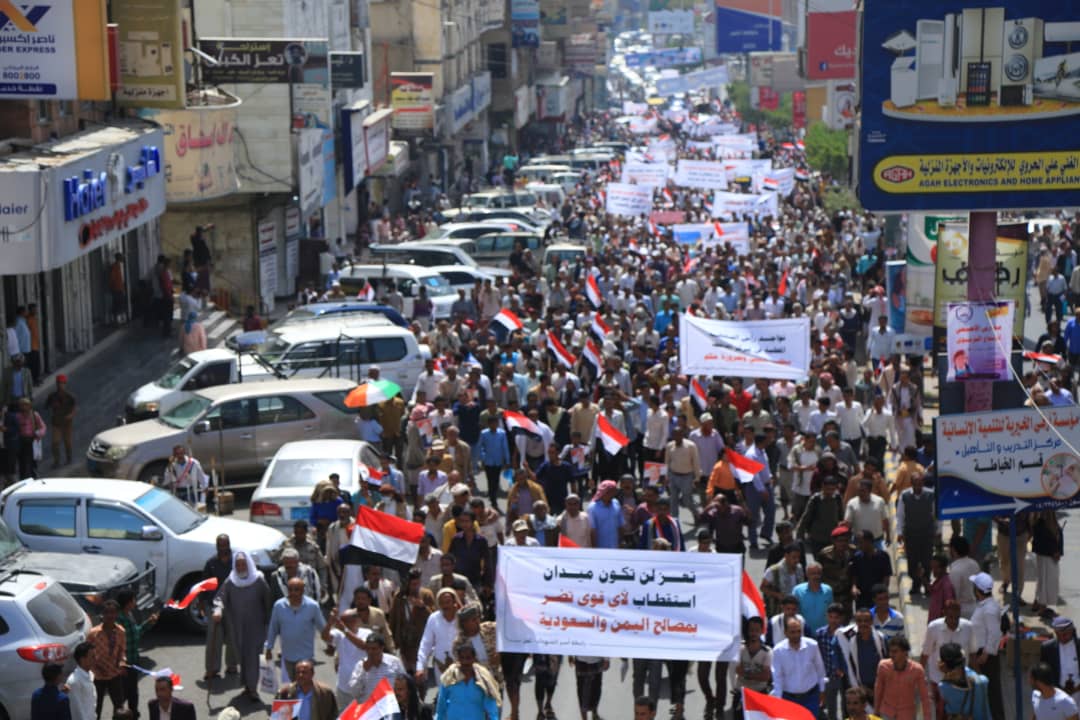 TAIZ - SABA
Thousands of Taizi people took to the streets Thursday in support to the legality, rejection to Houthi myth of Houthi sectarian celebration of Ghadir Khumm and called for ending chaos and tightening security in liberated areas.
The participants in the march raised banners supporting legality, national army and the security campaigns against security wanted and outlaw people in Taiz.
The protesters renewed their rejection to Iran-backed Houthi militia's coup and chanted slogan in revenge for martyrs and for continuous battle of liberation from clerical rule.
The release of the protest said that Houthi militia's celebrating " Ghadir Khumm" or a Shi' celebration of a claimed sermon by Prophet Mohammad PUHKM in which he appointed his son in -Law Ali bin Abi Taleb to take care of Muslims after his death.
The release confirmed rejection and denounce to criminal acts committed by security wanted people in Taiz and killing and injuring innocent victims, demanding the local authority and security forces to shoulder responsibility in tightening security and realizing stability in the province.
The massive protesters renewed full support to the legality represented by political leadership and the government and reaffirmed relations between Yemen and Saudi Arabia as partners in destination battle against Iran's agenda and its hands in Yemen.