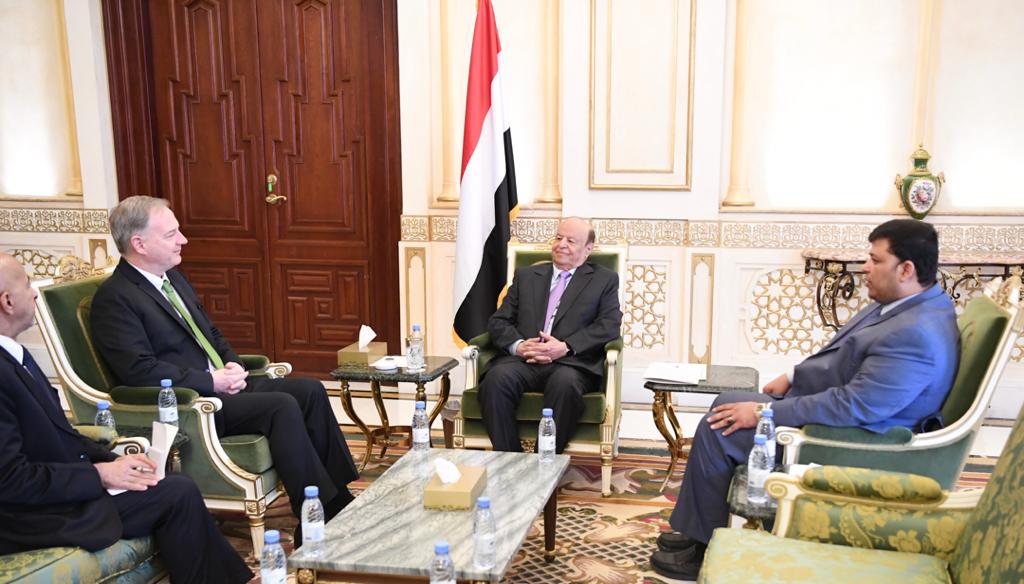 RIYADH-SABA
President Hadi receives Ambassador of the United States to Yemen Christopher Henzel over situations in Yemen and latest developments in the region including Iranian escalations and attacking US bases in Iraq.
The two parties discussed also a number of issues and topics of common concern.
President confirmed deep-rooted relations between Yemen and the United States and horizons of boosting and improving them in different fields through strategic partnership between the two countries in facing Iranian interferences in Yemen and in the region and combating terrorism.
He confirmed aspirations for realizing peace and stability across Yemen with support from the US, the International Community and brothers in the Arab Coalition.
For his part, Henzel confirmed continuation of US support to Yemen and its legality in facing Iranian interferences in the region, praising Yemen's situations over Iranian aggressions against US bases in Iraq.
The two parties discussed steps taken for implementing Riyadh Agreement and the US diplomat confirmed his country's support for implementing the executive matrix on security field signed by the government and Southern Transitional Council recently.