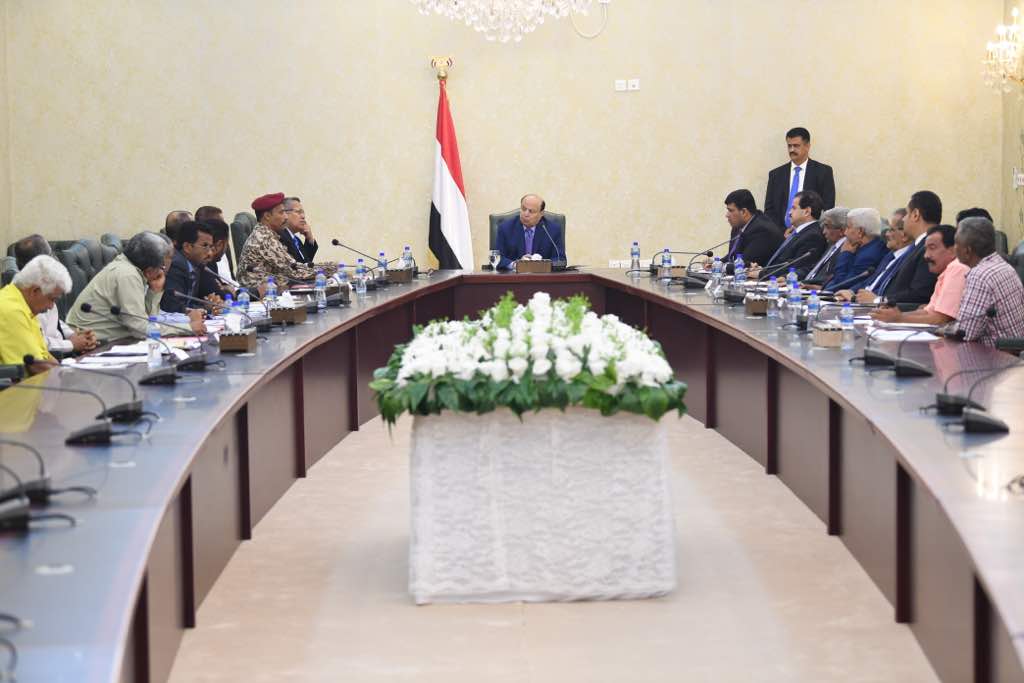 ADEN-SABA
President Abd-Rabbu Mansour Hadi held a preliminary meeting of seniors government officials in Abyan province.
Prime Minister Dr Ahmed Obeid Bin Dagher attended the meeting which include governor of Abyan Maj. General Abu Baker Hussein Salim and Ministers of Electricity , Water and Environment, Public Health and Population, Education and Public Works and Highways.
The President talked about several national topics, underlining the importance of advocating the Yemeni peoples' will and national interests of establishing the State of justice and equity within the framework of a new federal Yemen.
He said:" Darkness and Imamate theocracy scheme of Iran-backed Houthi militia is doomed, thanks for our peoples' will, national military, brave resistance, and support by Saudi-led Arab Coalition and backed by the United Arab Emirates".
The President added:" Today, we inspect our peoples' concerns and needs in government-held provinces so as to address basic needs of the citizens in their daily life".
He noted that Abyan's suffering is double due to war on terrorism in 2011, as military operations resulted in wide-scale destruction touched upon infrastructure and all walks of life.
The Prime Minister applauded the significance progress in the province within a very short time, as several emergency projects have started operations in the fields of electricity, water health, fishery and agriculture.
Abyan governor provided a detailed report about the situations in the province, citing the most important challenges and basic services need to be addressed urgently.
The President urged the government to follow-up the incomplete projects and to get the Abyan 'Reconstruction Donor Funds' deliver on their commitments.