[02/11/2022 03:42]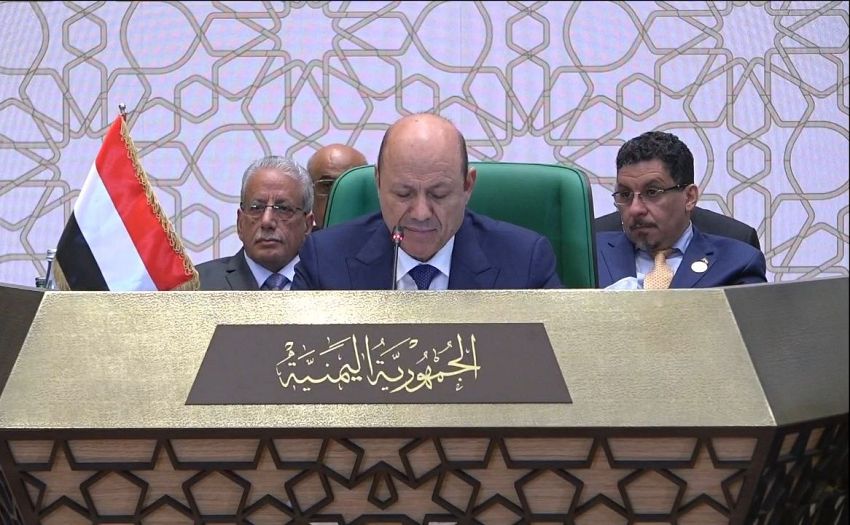 ALGIERS-SABA
His Excellency President Dr. Rashad Mohammed al-Alimi, Chairman of the Presidential Leadership Council, called for collective Arabian labeling Houthi putschist militias as a terrorist organization upholding the National Defense's resolution, based on the Arab League's decision no (8725) dated 23 January 2022, issued by the permanent representatives, ratified later on by the Ministerial Council.

Speaking at the 31st Session of Arab Summit today, Wednesday, in Algeria he noted that this terrorist group has caused the death of some half a million people including women, children displaced around five million more throughout the country and abroad, randomly planting millions of internationally banned landmines and explosives devices, embarked on erasing our national identity, scraped communal rights, gains and coexistence milieu and pluralisms that had been prevailed throughout our country's history.

He added that there are more than 80% of our peoples currently are waiting for humanitarian aids to survive amid the terrorist militias' insistence on violence, rejecting all efforts and good offices to put an end of this suffering.

His Excellency stated that an optimistic atmosphere overwhelmed all over the country amid the UN-brokered truce which the government committed itself to fulfill its all obligations and it has continued to do so until today even though the terrorist militia has rejected to renew the truce, failed to respect its obligations under the truce agreement, including its commitment to open the routes to the city of Taiz which has been besieged by the militiamen since seven years.

The President went on saying" This sense of hope rapidly dashed away as it was anticipated, when the terrorist Houthi militias once again opted for an unprecedented military escalation in identification with the Iranian regime expansion strategy in the region".

President al-Alimi indicated that this terrorist group is openly bragging about its attacks against the civil and economic facilities in Yemen, cross-borders, developing terrorist manners to threaten maritime navigation starting by randomly planting marine mines in the international maritime shipping lines, attacking commercial tankers by drones and remote-controlled boats, guided-missiles and ending up with piracy actions and ships abduction.

The Chairman of the Presidential Leadership Council asserted that it is time for a joint Arab action in Yemen based on the truths of the existential threat to the Arab national security and the endeavors to detach our county out of its Arab and Gulf fabric, turning it into an Iranian launch-pad to threaten Arab national security and world energy supplies.

President al-ALimi stressed the importance of denying these terrorists a safe-havens and platforms for preaching racist-sectarian doctrine, draining their finances resources, dismantling their misleading ideologies, this will be the start-up point toward defeating them, reviving the genuine and sustainable peace track.

The President also stressed that it is very important to support all efforts to stop the devastating Iranian interferences in Yemen's internal affairs including standing up to the Iranian weapons shipments, military expertise and the destructive and divisive attitudes and ideas.


---

Leadership Council Chairman receives German delegation

President al-Alimi confirms independence of Judiciary

President al-Alimi holds a meeting with Defense Minister, Commanders of Fourth Military Region

President al-Alimi holds session with Board of Directors of the Central Bank

Chairman of Leadership Council stresses importance of strengthening role of control and audit agencies

President al-Alimi directs forming committee to control fish prices

President al-Alimi receives credentials of new Portuguese ambassador to Yemen

President al-Alimi receives European ambassadors

Brig. Bashir Saif Ghobair appointed as Commander of the Homeland Shield Forces

A decree by Chairman of the Presidential Leadership Council about establishing homeland shield forces