[09/07/2022 01:34]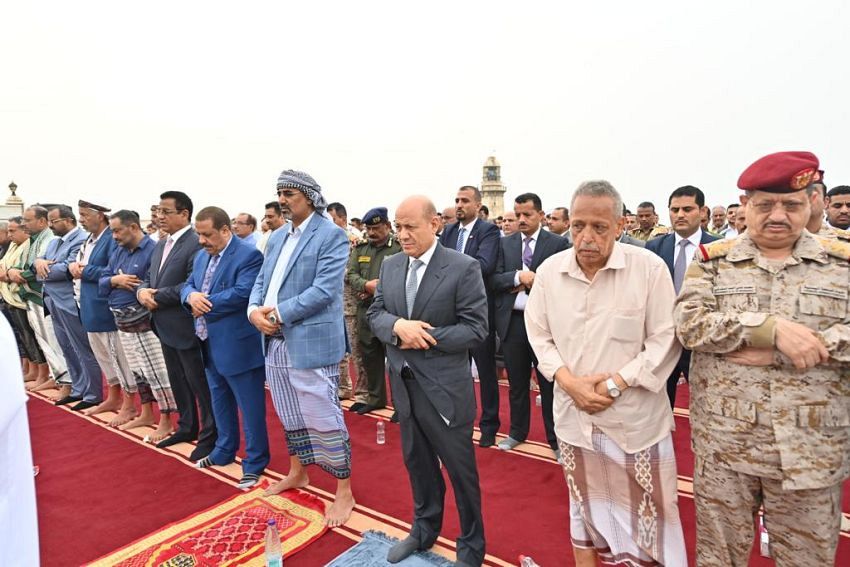 Aden – Saba
His Excellency President Dr. Rashad Muhammad Al-Alimi, Chairman of the Presidential Leadership Council, and the Vice-President of the Council, Aidarous Al-Zubaidi, performed the Eid al-Adha prayer, with the crowds of worshipers in the temporary capital Aden.

The president witnessed the two Eid sermons in which Sheikh Anis Ahmed, imam and preacher of the Saad Ibn Abi Waqqas Mosque, spoke about the status of the blessed Eid al-Adha, as one of the greatest Islamic days, including the great principles of tolerance, redemption, sacrifice, and equality among human beings regardless of gender, color or country.

The Eid preacher pointed to the need of the Islamic nation for these lessons and principles in its living reality, especially the Yemenis whom the Holy Prophet described as the kindest of people with the softest hearts and the most wise. Sheikh Anis Ahmed urged "the unity of the ranks, the unity of the rhetoric, the avoidance of division, and the purification of hearts, from grudges and resentment" in these exceptional circumstances in the history of our country.

He said: Failure and defeat is an inevitable fate for the people of division and fragmentation, and victory is destined for the people of unity regardless of their religion, history and creed. The Eid preacher also urged the country's politicians and leaders to take care of public affairs, embody the values ​​of solidarity and tolerance, and relieve the wounded and bereaved people of the country.

After that, the President and his deputy received a large crowd of well-wishers on the occasion of Eid Al-Adhaha, including statesmen and members of the government, military and security leaders, women and community figures.


---

FM: Evacuating all Yemeni citizens in Port Sudan evacuated

Arab-Chinese Forum puts emphasize on the unity, sovereignty and territorial integrity of Yemen

Interior minister receives Norwegian MP

MASAM removes 875 Houthis-laid landmines in a week

Leadership Council chair praises GCC for supporting Yemen and its just cause

Higher Education Minister reviews with ILO implementing apprenticeship program

President al-Alimi congratulates Turkish president on winning elections

Yemen participates in Arab Atomic Energy Meeting

President al-Alimi convenes high-profile meeting includes Speakers of Parliament, Shura Council

Head of Central Agency for Census discusses with ILO representative partnership efforts