[26/05/2022 04:51]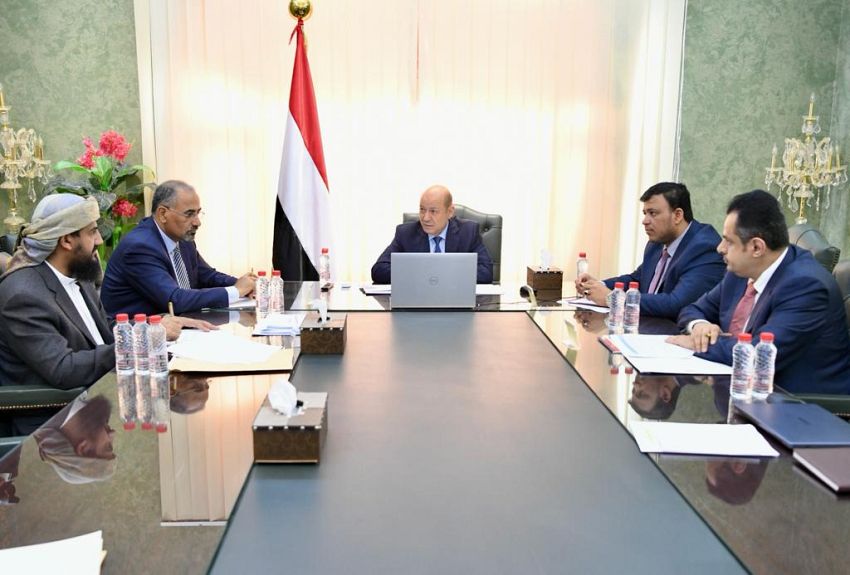 ADEN - SABA
The Presidential Leadership Council (PLC) held a meeting today, Thursday, with Prime Minister presided over by the President Rashad al-Alimi, Head of the PLC.

The session is intended to discuss the economic, financial and services situations and the government's plans and measures to make them better.

The Prime Minister Dr. Ma'een Abdulmalik provided a detailed presentation about his government's reports about the economic and services situations and challenges need to be overcome, citing the required resources and suggested solutions to manage the economic hardships and improve the basic services, mainly electricity.

He reported about the detailed indicators of the economic situations and public finance, noting the appropriate options to contain the implications of the food crisis which connected to the changes in the global prices.

The Prime Minister cited the decisions of the High Council for Energy about the reform and development of the electricity system in terms of generate-transport and distribute the electricity as well as the recommended solutions to the shortage of power in the summer time.

The PLC also was briefed on the government's plans and measures to deal with the grains global crisis, including the bilateral agreements with the Republic of India to secure Yemen's needs of wheat.

President al-Alimi directed the government and the Central Bank of Yemen to provided further procedural reports to cope with the financial crisis and improve the national currency exchange rates.

He also ordered reports about the progress in the implementation of the previous directives to the banks and exchange firms about relocating their headquarters of their financial operations to the temporary capital Aden.

Concerning to the electricity the President demanded a detailed report about the pressing needs for the electricity network within the coming four months and permanent solutions in midterm and long-term.


---

Leadership Council continues to discuss local situation & repercussions of Houthi terror attacks

Presidential Leadership Council considers repercussions of Houthis' terrorist attacks

President al-Alimi congratulates Kazakhstani president on reelecting him for second term

President al-Alimi praises the Chinese supportive stance in support of the Yemeni people

President al-Alimi receives ambassadors of Australia, New Zealand to Yemen

President al-Alimi praises international support for the Central Bank of Yemen with $300 million

President al-Alimi meets with Ambassadors of P5, European countries

resident al-Alimi meets with Shura Council leadership

President al-Alimi leaves Sharm El-Sheikh after contributing to COP 27

President al-Alimi participates in German work session on climate changes