[11/10/2021 05:55]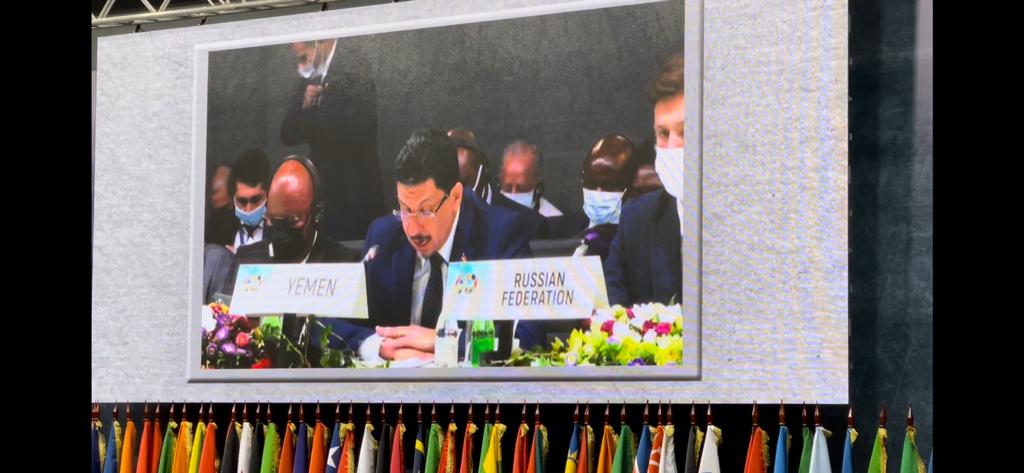 BELGRADE - SABA
Minister of Foreign Affairs and Expatriates Dr. Ahmed Bin Mubarak called on the members states of the Non-Alignment Movement (NAM) to ramp-up political pressure to push peace in Yemen and support international efforts to put an end of the war triggered by Iran-allied insurgent Houthi militia.

As he contributed to the deliberations are being held in Belgrade today and tomorrow on the 60th Anniversary of establishing the NAM he said " My country has been experiencing very difficult circumstances since seven year as a result of the war triggered by the putschist Houthi militia backed by Iranian logistical and military support with the aim of destabilizing security in Yemen and the region, creating sectarian armed militias replacing the national military and its legitimate government".

Bin Mubarak went on saying : " The Houthi militia-imposed war has produced a humanitarian disaster, torn-up the Yemeni society, caused waves of mass- displacements, enforced disappearances Yemen had never seen since long-decades ago. However, we extended our hands for peace, did our utmost efforts to support the UN-led efforts to end the war and reach a permanent peace based on the agreed on peace references including the GCC's Infinitive, its operational mechanism, outcomes of National Dialogue and the UNSCRs in relevant, namely 2216".

The Foreign Minister blamed Iran backed Houthi militia for lengthening the war and the Yemeni peoples' ordeal.

He stated that we have offered significant concessions and accepted all proposals aimed to put an end of the war, particularly the initiative suggested by the Kingdom of Saudi Arabia, it aimed to establish an overall cease-fire, reopen Sana'a airport, easing fuels delivery through Hodeida seaport based on Stockholm Agreement and resuming the peace process, but unfortunately all these efforts and proposals totally rejected by Houthi militia.


---

KSA, France say it is important to support peace efforts to reach political settlement in Yemen

Yemen explores international support in trade

President Hadi touts gains of the army and the resistance on Marib fronts

Yemen FM discusses with Spanish counterpart ways to strengthen bilateral relations

President Hadi makes a phone call to the governor of Shabwa to inspect the situation of the governorate

Houthi abandonment of the 'divine right' to reign is a prerequisite for peace, says Yemen FM

Asbahi, Moroccan official discuss preparation of a bilateral cooperation program

Al-Sharjabi, Palestinian Minister of Water discuss possibility of signing agreement to exchange experiences

F.alhusary: Al-Eryani meets with Chair of Spanish Parliament Committee on Foreign Relations

FM discusses with Italian counterpart latest developments in Yemen