[04/06/2021 02:16]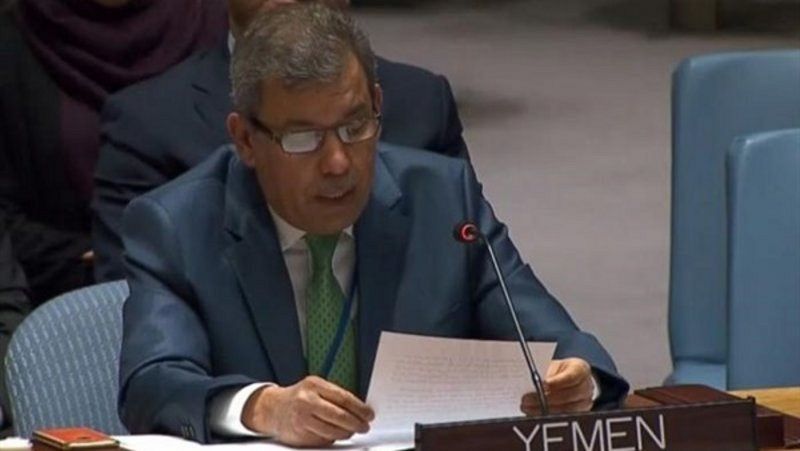 NEW YORK-SABA
Yemen's Permanent Representative to the United Nations Ambassador Abdullah al-Sa'adi has called Security Council to shoulder its responsibilities and take firm and deterring measures against Houthi militia and to exert serious pressure on the militia to stop playing with Safir Oil Tanker issue and not to use it as a card for political blackmailing.

Silence or meekness with Houthi militia on Safir issue is no longer possible as there is no time to wait and what is possible today will not be possible tomorrow, said al-Sa'adi in Yemen's speech he delivered Thursday in a session for the Security Council on Safir tanker issue.

This session is being held a year after holding the first session on Safir issue and nothing has been achieved, he said.

He pointed out that the militia rejects all international calls and efforts, including UN efforts, for solving Safir tanker issue, rather the militia accuses the UN of looting and playing with funds allocated for evaluation and maintenance work of the tanker.

He reviewed details of the crisis, which started in 2017 by warning by government on the general situation of the tanker over lack of evaluation and necessary maintenance works, pointing out that the government suggested to the UN to talk with Houthi militia to allow to a UN technical team access to the tanker for making necessary evaluation and maintenance work.

He added that in 2007, the UN Secretary General Assistance for Humanitarian Affairs Mark Lowcock has warned before the Security Council against potential disaster's results if the tanker exploded or if more than one million barrel of crude oil leaked.

Al-Sa'adi pointed out that the government made a number of addresses to the United Nations on environmental, humanitarian and economic dangers posed by the deteriorated conditions of Safir tanker, noting to warnings made by many countries and international organizations to tackle Safir issue.

He talked about a suggestion made by the UN envoy to Yemen included three phases; quick evaluation and maintenance works, basic maintenance work and draining the tanker from oil and getting rid of the tanker and using the incomes of the sold oil for paying salaries of government's employees.


---

President al-Alimi confirms significance of UK support to Yemen's economy

President al-Alimi receives Dutch delegation

Minister al-Sharjabi discusses with Dutch officials Yemen's water, environment

PM receives British Ambassador in Aden

Al-Alimi receives congrats from US president and other world leaders on National Day

Al-Alimi receives congrats from world leaders on Yemen's National Day

emen participates in the WHO's General Assembly Sessions

resident Al-Alimi receives congrats from the King of Morocco on Yemen's national day

President receives congrats from the President of the UAE

Al-Alimi receives congrats from Kuwait on Yemen's National Day