[24/07/2019 12:21]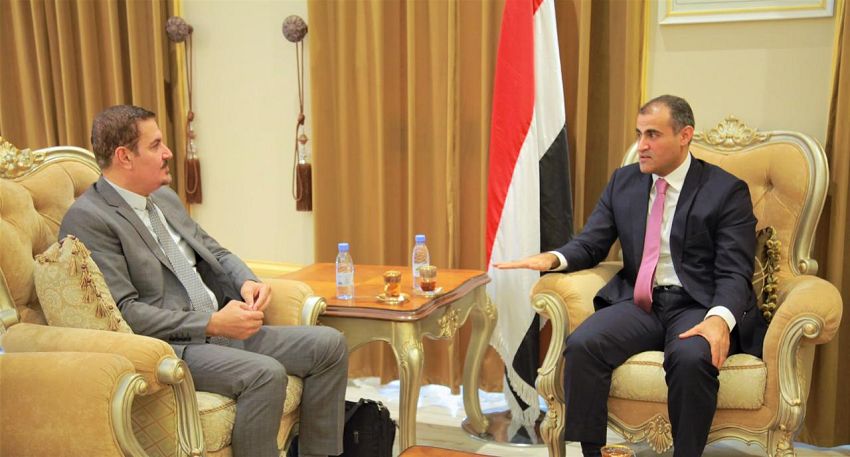 RIYADH-SABA

Vice Minister of Foreign Affairs Mohammad al-Hadhrami has confirmed government's keenness on boosting UN mechanism of inspection in Hodeida's ports.

In his meeting with Director of Inspection and Investigation Mechanism of the UN Farooq Hirzullah on Wednesday, al-Hadhrami pointed out that the government's support to the mechanism will be achieved only after implementing Hodeida Agreement and withdrawal of Houthi militia from Hodeida and its ports and implementing articles included in Stockholm agreement.

He pointed to dangers of deteriorating situation of Safer Oil Tank's and Houthi continuous' obstacles they made for hindering arrival of a UN team for inspecting the tank despite government's keenness and efforts for avoiding this environmental catastrophe.

Al-Hadhramid discussed also with the UN official means of boosting the mechanism in the Red Sea's ports in accordance with Stockholm Agreement and discussing deteriorating situation of the swimming tank at Ra'as Isa port and sending UN team for evaluating the situation there.

He held Houthi militia accountable of hindering the process of evaluating Safir Tank, calling the UN to shoulder its responsibility for pressuring Houthis.

For his part, the UN official praised government's cooperation and facilitations for making the UN's mechanism successful, confirming keenness on influx of goods and services to Hodeida's ports with guarantees for banning weapons.

He praised government's keenness on tackling situation of Safir tank and providing all facilitations to the UN team.


---

Yemen, Arab Monetary Fund sign agreement worth one billion dollars

Defense Minister heads to UAE on an official visit

Parties to Ottawa Agreement on landmines agree to keep support to Yemen five year more

Yemen participates in OIC Standing Committee meeting in Istanbul 11/26/2022

Leadership Council member Brig. Tariq Saleh discusses conditions of Dhubab district

Chief of Staff discusses with Saudi Counterpart promoting military cooperation

Kuwaiti Najat Charity launches relief campaign to displaced people in Taiz

Finance minister emphasizes training customs senior agents

Justice Ministry participates in workshop on maritime security, cross-border crime

Presidential Leadership Council considers repercussions of Houthis' terrorist attacks