[18/04/2019 06:55]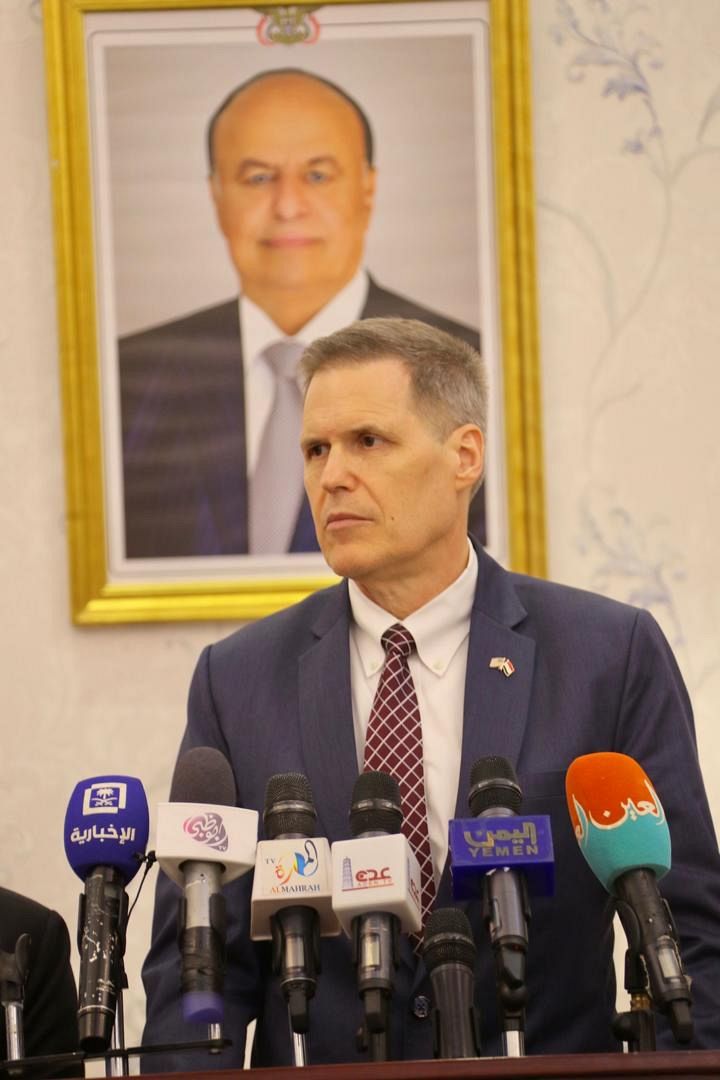 ADEN-SAB
American Ambassador to Yemen Mathew Tuller has renewed his country's welcoming the convening of Yemeni Parliament in Sayoon of Hadramout, describing this move as key pillar of nation-building.

Speaking at press conference in the temporary capital Aden on Thursday following his meeting with Prime Minister Dr Ma'een Abdulmalik, Tuller said" I congratulated His Excellency Prime Minister on his contribution to this matter, consequentially his standing before the lawmakers to present the state's general budget, I do believe this is very important for the Yemenis who are seeking to have their own government that works to serve their own national interests, the U.S. is warmly welcoming this matter".

Tuller voiced his pleasure to come back to Aden once again saying he found significant changes. He noted that he would hold sessions with members of the Yemeni government to discuss how can the U.S. help the government doing its responsibilities effectively, such as securing regular pay of the government's employees salaries and reinstating basic services.

The American Ambassador stated that countering terrorism is a strategic objective of the U.S. whether in Yemen or elsewhere in the region, noting that this is can only be done through the government.

Mr Tuller expressed disappointment for not implementing Stockholm Agreement until now though four months have passed since reaching the agreement." This is putting Houthis' seriousness about peace into question", he said.

The U.S. diplomat has made clear that his country's interest in Yemen is better served by ensuring a competent Yemen government that can deal effectively with the terrorist groups. Therefore, the U.S. administration will help improving the Yemen security services' capacities.


---

President al-Alimi congratulates President Xi Jinping on his country national day

Al-Asadi: More than 1,450 violations against press and journalists in Yemen

Minister of Planning chairs meeting over livelihood development

Al-Arada, meets presidency of Consultation and Reconciliation Commission

Info. Minister: Govt has made intensive efforts to preserve cultural heritage amid conflict

Yemeni-Japanese relations discussed

Yemen participates in custom tariff's meetings in Cairo

Houthi militia must fulfill its obligations under UN Truce articles, says al-Erada

Houthi militias blamed for 20 thousand violations against children-Report

President al-Alimi receives presidency of reconciliation authority