[18/10/2018 06:16]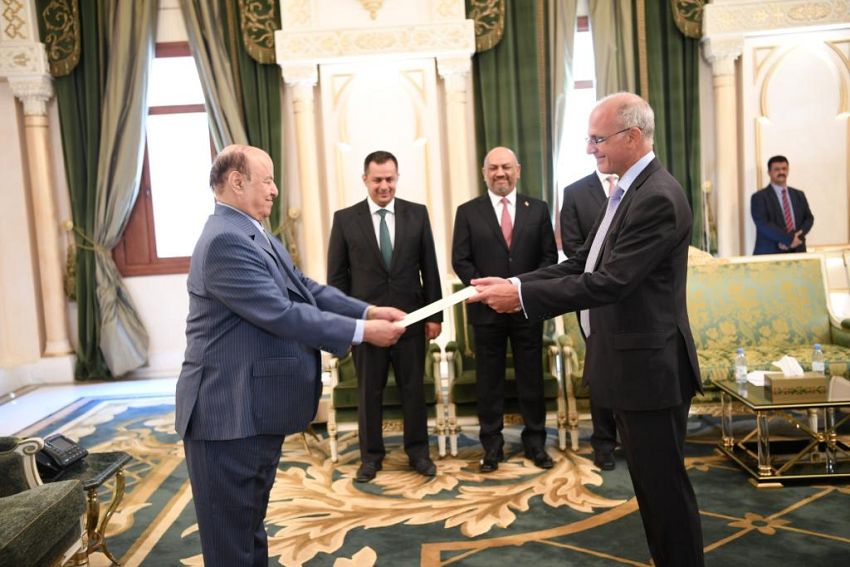 RIYADH-SABA
President of the Republic Abd-Rabbu Mansour Hadi received Thursday the credentials of Michael Aron as Ambassador of the United Kingdom (UK) to our country.

President Hadi welcomed the newly appointed Ambassador of the UK, promising him all support during his tenure.

The President praised deep rooted relations between the UK and Yemen, highly appreciating British government's support for Yemen and its legitimate leadership's efforts to establish the desirable security, peace and stability within a stable, secure federal Yemen.

President Hadi pointed out to aspects of partnership and cooperation between the two friendly countries, citing historical landmarks are still lively in the Yemeni peoples' memory, which coincided the Independence or the earlier significant events such as the Yemeni-Anglo agreement about Yemeni borders and provinces in 1934, when Al-Baidha and Al-Dale'a were exchanged.

He said:" The two Revolutions of 26 September and 14 October have produced a new reality for the Yemeni people, in terms of land and human, it was a product of great sacrifices the Yemeni people had extended for stability and noble living. Then the Yemeni re-union represented an extension of those sacrifices which incarnate the unity of the Yemeni land and identity. This unity will remain deeply rooted and win gain victory over all divisive forces and groups given that it is the choice of all Yemeni peoples who stressed on—through the outcomes of National Dialogue—the new federal state conception that is to be based on justice, equity and good governance".

For his part, the British Ambassador expressed his pleasure for the warm reception, appreciated the President's directives to facilitate his mission, pointed out to the historic relationship between the two friendly countries and peoples.

Aron also reiterated the UK's support for the legitimate Yemeni leadership represented by President Abd-Rabbu Mansour Hadi and it will continue to support Yemen to get rid challenges and achieve desired security and peace.

Prime Minister Dr Ma'een Abdulmalik, Foreign Minister Khaled Al-Yemany and Director of the Presidency Office Dr Abdullah Al-Alimi were in attendance.


---

President al-Alimi receives Norwegian foreign minister

Leadership Council chairman meets US Secretary of State

Leadership Council chairman receives UN Special Envoy

resident al-Alimi congratulates Italian President on his country's National Day

President al-Alimi receives American Ambassador

Leadership Council chair praises GCC for supporting Yemen and its just cause

President al-Alimi congratulates Turkish president on winning elections

President al-Alimi convenes high-profile meeting includes Speakers of Parliament, Shura Council

President al-Alimi praises UK's support for the Yemeni people

President al-Alimi receives Ambassador of the People's Republic of China