[14/06/2018 08:10]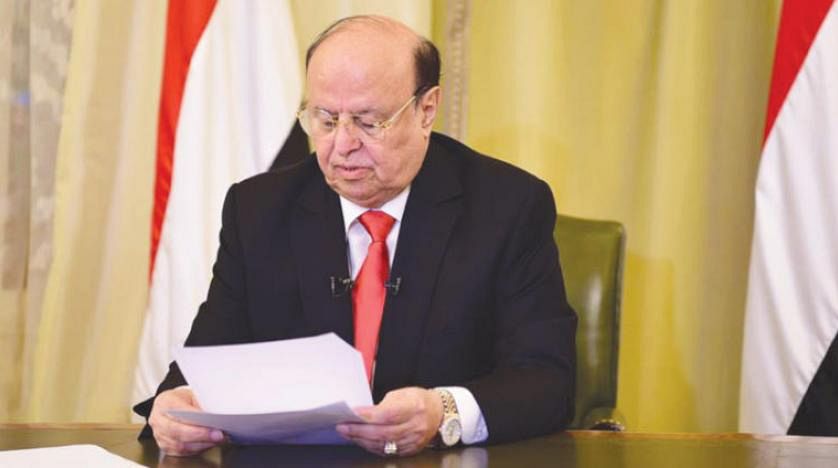 ADEN-SABA

His Excellency (HE) President of the Republic Abd-Rabbu Mansour Hadi described Houthi militia's emergence as a curse came back from old ages.

He said:" Houthi putschist militia which came from history's dust as a curse, will fade away like dust, escorted with curses'.

His statement came in his address to the nation on the eve of Eid Al-Fiter .

HE added:" We assure you that we'll save no efforts—alongside with our brethren of Saudi-led Arab Coalition—to alleviate our peoples' suffering, we're going to do our utmost to deal with the humanitarian situations and to preserve civilians' lives and properties as a high top priority in accordance with International and Humanitarian Law, and to ensure the continuation of humanitarian aids flow to our people".

The President reassured the Yemeni people that victory is clearly looming. He said:" Let me tell you with much confidence and certainty that victory is coming soon—with Allah's help—it is closer than many people may imagine".

HE reiterated his promise of establishing a Federal Yemeni State that will be an exit from the crisis the country has been experiencing.
He said:" We'll back on the path of the future that Yemenis together drew and agreed on in the National Dialogue Conference, and the would-be Federal State will be a way out of our crisis and an end of the war we have to fought to defend legitimacy, state and our security and Arab nation's".

Talking about the ongoing military operations in Hodeida, HE blamed Houthi putschist militia for refusing all peaceful suggestions aimed to avoid military actions.

He said:" You're well familiar with honest and sincere efforts we have made to save Hodeida this combat military operation, we've tried all possible ways, we didn't save any effort at the UN and international level to persuade the blood thirsty militia to come to peace on the basis of the three terms of reference and hand over Hodeida and its seaport under a suggestion by the UN envoy, but as usual they proved to be a tool controlled by their masters and they'll never hesitate to burn Yemen and its populations for the sake of their myths, illusions and to serve their bakers' interests".







---

President al-Alimi confirms significance of UK support to Yemen's economy

President al-Alimi receives Dutch delegation

Al-Alimi receives congrats from US president and other world leaders on National Day

Al-Alimi receives congrats from world leaders on Yemen's National Day

resident Al-Alimi receives congrats from the King of Morocco on Yemen's national day

President receives congrats from the President of the UAE

Al-Alimi receives congrats from Kuwait on Yemen's National Day

President al-Alimi receives congratulation cables from Puttin, Macron, Naruhito

Al-Alimi receives congrats from his Egyptian counterpart on the 32nd National Day anniversary

President receives congrats from Custodian of the Two Holy Mosques on National Day