[28/12/2017 05:55]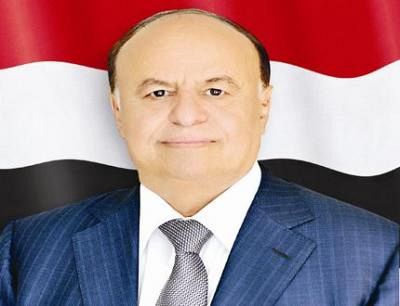 RIAYDH-SABA
President Abd-Rabbu Mansour Hadi conducted a phone call this evening, Thursday call to the leader of Tihma local resistance Abdularahman Al-Hujari.

In his telephone conversation, the president intended to be briefed on the latest developments about combat operations against Houthi militia in the province of Tihaman where the government's troops along with local resistance fighters have been battling the Imamate-Houthi militia.

President Hadi congratulated the leader of Tihama resistance on the advancements made by the troops and local fighters against Iran-backed Houthi militias which have been fighting for the Iranian proposal.

The President reiterated that military operations are going to continue until retaking all regions which are still under the yoke of Houthi-militia control. Hadi urged the people of Tihama to keep on battling the Imamate-Houthi militias until defeat them and save Tihama and all Yemen from their outdated racist doctrine that seeks to reinstate the imamate despotic ruling.


---

President al-Alimi congratulates on India's independence

President al-Alimi congratulates on Indonesia's independence

The President of the Presidential Leadership Council heads to Abu Dhabi on an unofficial working visit

President of the Presidential Leadership Council meets Presidency of the Consultation Commission

Chair of the Presidential Leadership Council receives credentials of the Libyan ambassador

Appointing Faez Qahtan, Commander for Second Military Region

President meets with Parliament Speaker, MPs on latest developments

Presidential Council chair puts Yemeni people before the reality of the situation in Shabwa

President and members of the Supreme Judicial Council

Leadership Council holds first meeting with the judiciary