[02/11/2017 09:04]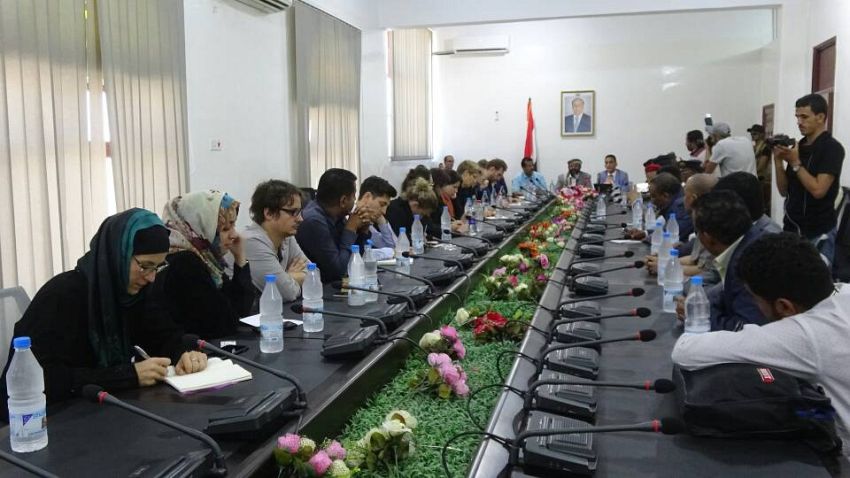 MARIB-SABA
The Governor of Yemen's eastern province of Marib has told a visiting team of 20 US and European journalists that the Houthi-Saleh rebel militias' coup d'état of September 2014 has had a large scale humanitarian impact on the Yemeni people; security, social, health, education and living wise.

In a roundtable meeting with the team of 20 representatives of various media outlets, visual and print, in his office on Thursday Maj. Gen.

Sultan al-Eradah said: "We, in Marib, have received and accommodated IDPs that far outnumber the local population of Marib, coming from different Yemeni provinces. This now imposes enormous challenges on the local government in the health, education, social, economic and security fields."

He thanked the local community for their sense of social solidarity, and the Arab Coalition, King Salman Relief Center, the Emirati Red Crescent and the UNICEF for their aid that contributed to alleviating this humanitarian impact and pressure.

"In traditional coups, it is known that one part of the government overthrows the other part. But what happened in Yemen was another genre; the militias in one of the provinces ploughed their way toward the capital Sana'a and took over the state institutions by the power of weapons," the governor said.

"Since assuming power by free elections, the political leadership, represented by President Abd-Rabbu Mansour Hadi, has been keen on creating a dialogue and a peaceful partnership in the country. Read the matrix of National Dialogue Outcomes. All (the stakeholders) reached a standoff as a result of the coup."
He noted that Marib was the only province that didn't fall to the hands of the coup militias.




---

Defense Minister heads to UAE on an official visit

Parties to Ottawa Agreement on landmines agree to keep support to Yemen five year more

Yemen participates in OIC Standing Committee meeting in Istanbul 11/26/2022

Leadership Council member Brig. Tariq Saleh discusses conditions of Dhubab district

Chief of Staff discusses with Saudi Counterpart promoting military cooperation

Kuwaiti Najat Charity launches relief campaign to displaced people in Taiz

Finance minister emphasizes training customs senior agents

Justice Ministry participates in workshop on maritime security, cross-border crime

Presidential Leadership Council considers repercussions of Houthis' terrorist attacks

Presidential Council member discusses with Hadhramawt governor security plans