[01/10/2017 07:58]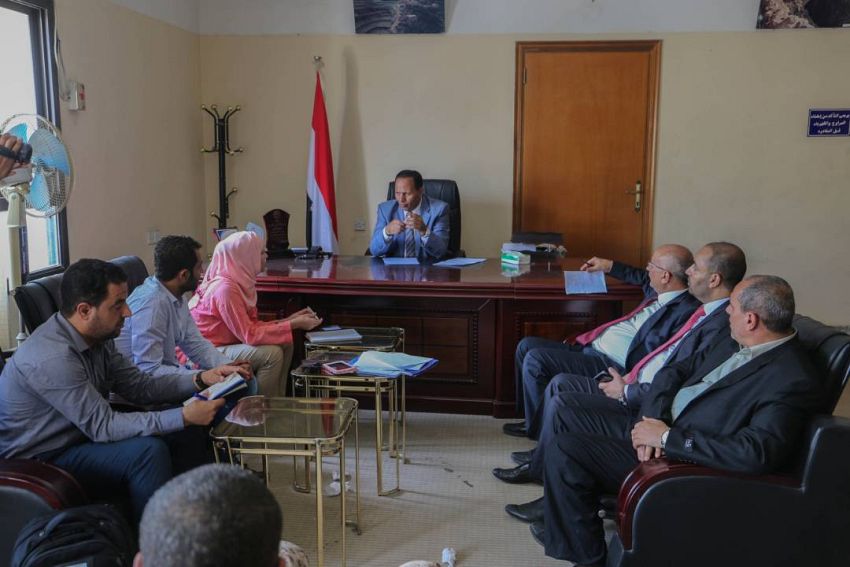 TAIZ-SABA
Deputy Premier and Minister of Civil Service Abdul-Aziz Jubari said that the international organizations fall short of relieving the humanitarian suffering of Taiz.

In a meeting with the official of the ICRC office in Taiz Stephanie Allaire this Sunday, Jubari said: "The international organizations fall short of relieving the humanitarian suffering of Taiz, but we thank the Red Cross for carrying out a number of activities and support programs. And we hope that the attention paid to Taiz be heightened up because there are five million people in this province. The war blighted a high percentage of them with poverty, incapacity and all those miserable concomitants of conflict."

"Taiz has been experiencing shelling, killing, destruction and siege for three years, and is targeted for having a reservoir of awareness and education, which the militias refuse and collide with, because they want to maintain a state of ignorance and backwardness to be able to enslave the people."

He called on the ICRC to stand by Taiz and give it a high priority given the militias' persistence in war against this peaceful city.
He said that the Saleh-Houthi coup "militias have killed and injured thousands of civilians in their shelling on the city, which bore the brunt of the war damage" and that the wounded and families of the fallen civilians are going through real agony.

The militias continue to confiscate relief aid convoys and assistances in light of the international organizations' failure to condemn their acts, he said.

The chief of the Supreme Committee for Relief AidAbduraqeeb Fatah was in the meeting and praised the ICRC for alleviating the suffering of the people in Taiz, Aden and Saadah.

He called on the ICRC official "to assess the humanitarian situations in the city of Taiz and not to use the hands off approach that the human rights organizations use based on the assumption that the gladiator and victim are equal."

Fatah said there are scores of wound people in Taiz who need artificial limbs and, therefore, the ICRC has to maintain supporting the artificial limbs fabrication center and to assist in re-operating the closed wards in Al-Thawra Public Hospital. .


---

Prime Minister initiates roundtable discussions between government and UN in Aden

Dep. Chief of Staff talks with European Ambassadors over Houthi militias' escalations

Minister Buhaybeh, UNFPA representative discuss interventions in health sector

Chairman of Presidential Council arrives in Dubai to participate in climate summit

Foreign Ministry condemns Dutch parliamentarian's denial of the rights of Palestinian people

Council of Ministers reviews economic, financial, monetary reforms

Yemen presidential council chairman confirms full support for Egypt's position toward Palestinian cause

Leadership Council chairman welcomes temporary truce in Palestinian territories

Yemen welcomes ceasefire agreement in Gaza Strip

Ambassador Al-Maytami participates in Belt and Road Initiative conference in Jinhua, China