[22/09/2017 07:40]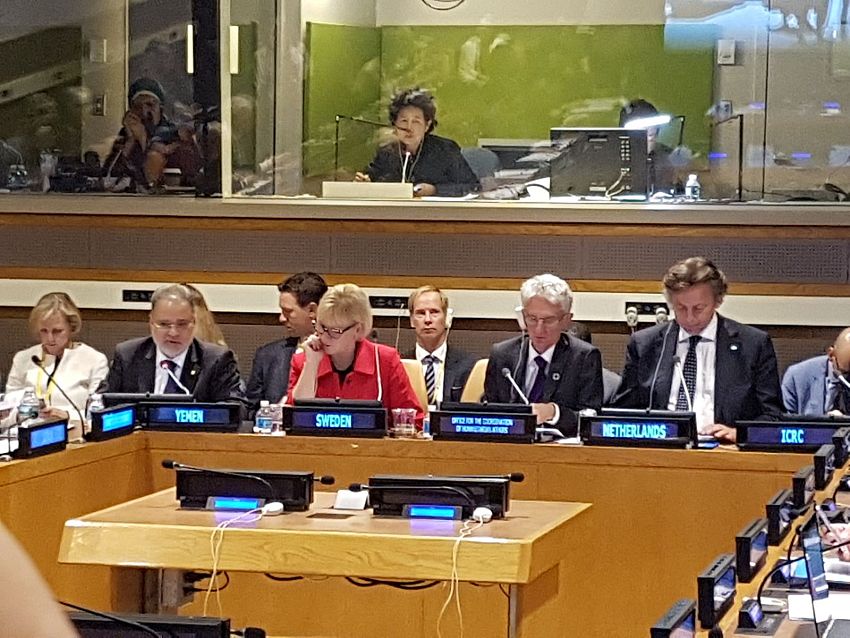 NY-SABA

A high-level meeting was held in New York today to discuss the humanitarian crisis in Yemen and the level of funding for Yemen's 2017 humanitarian response plan, co-chaired by Swedish Foreign Minister and Dutch Foreign Minister and the UN Under-Secretary-General for Humanitarian Affairs.

At the meeting, Minister of Foreign Affairs Abdul-Malik al-Mekhlafi delivered a speech in which he pointed to the worsening humanitarian crisis caused by the coup d'état, calling on donor countries and international organizations to increase their pledges to bridge the gap in financing the humanitarian response plan.

The Minister stressed the need to review the mechanism of distribution of relief aid in coordination with the legitimate government and avoid the mistakes of the past, pointing out that the militia has been tampering with the aid and selling it in the black market.

He stressed the importance of separating the humanitarian situation from the political aspect, given that the humanitarian crisis is a direct result of the coup/insurgency against the state. He also stressed the importance of supporting peace efforts and exerting pressure on the coupers to accept the UN Special Envoy's proposals concerning the port and city of Hodeidah and the importance of paying the salaries of state employees as a step to build confidence in the lead-up to build political settlement that ends the suffering of the Yemeni people.

The participants highlighted the importance of containing the current humanitarian crisis, warning that this situation does not only threaten to cause more victims from this humanitarian disaster, but will also have implications for future generations.


---

Defense Minister heads to UAE on an official visit

Parties to Ottawa Agreement on landmines agree to keep support to Yemen five year more

Yemen participates in OIC Standing Committee meeting in Istanbul 11/26/2022

Leadership Council member Brig. Tariq Saleh discusses conditions of Dhubab district

Chief of Staff discusses with Saudi Counterpart promoting military cooperation

Kuwaiti Najat Charity launches relief campaign to displaced people in Taiz

Finance minister emphasizes training customs senior agents

Justice Ministry participates in workshop on maritime security, cross-border crime

Presidential Leadership Council considers repercussions of Houthis' terrorist attacks

Presidential Council member discusses with Hadhramawt governor security plans