[29/03/2017 06:04]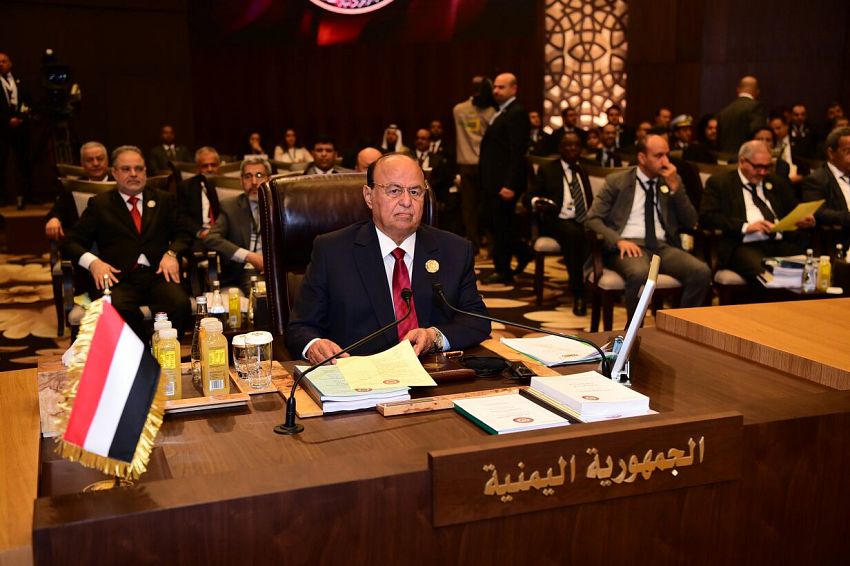 The Dead Sea, (Saba)- Yemen has not only been facing political rebellion, what happened was much more greater, the political transitional process, organized by the GCC Initiative and led to national inclusive dialogue's outcomes included in a draft constitution, has been targeted , said President Abdo Rabbu Mansour Hadi on Wednesday.

"If Yemenis voted for the constitution, Yemen would have been today a new Yemen and secured like other countries Yemen preceded them in inclusive national dialogue conference participated by all national spectrums and political forces under international sponsorship and the United Nations but that did not happen, rather, cities were besieged, the president and the legal government were arrested and the capital and its institutions were seized," said President Hadi in a speech he delivered at the 28th Arab Submit is being held here.

Talking about Houthi-Saleh's rebellion, he added, what happened in this chapter can be called rebellion but what happened before and after it is more than a rebellion. All state's components; institutions, bodies and infrastructure, have been targeted. "Economic corporations have been stolen; the Central Bank of Yemen's reserve has been looted and the funds were carried by trucks before people's eyes to their held cities."

"Yemenis found themselves all under the threat of weapons, their freedom are confiscated, thousands of arrested and forcibly disappeared are in big detention camps and even cities under their control have become huge detention," he said.

The social structure, he went on, Yemen has been unique in, have been tore and unforgettable war crimes have been committed "destroyed buildings could be rebuilt but wounding hearts, which lost thousands of innocent, cannot be cured without justice."

" We are convening today at this 28th Arab Summit while our homelands are witnessing wars and very difficult conditions never seen in Arab region since long time and this requires form us to review our plans and joint future strategies to keep pace with Arab supreme interests," he said.

We in the Republic of Yemen have been hoping to host this summit in the capital Sana'a, he said, to gather Arabs in their historical capital but Houti-Saleh's militias seized it and continue in creating crises to block any chance of returning to political process and ending violence and wars.

He reminded the attendants of three facts; Yemen is the origin of Arabism so that its security is undividable part of the region and Yemeni people will not accept isolating their country away of its natural location. The second fact is that Yemeni people have lived in a state of tolerance, brotherhood, love and peace in within and with its neighbors and this historical culture has not been endangered only by Houthis, Saleh and Iran.

Talking about the third fact, he reviewed efforts of the Gulf Cooperation Council and international community for keeping peace in the country since the change process in 2011 and following conflicts and internal split and fighting covered different parts of Yemen including the capital Sana'a. Then came the GCC Initiative led by Saudi Arabia as peaceful

wayout for power transfer and for new national reconciliation. The initiative led to the National Dialogue Conference followed by its document and outcomes crystalized in a new constitution agreed upon by all Yemeni participating political forces and social spectrums.

You and all know how those who have illusion of force and power overthrew on policy and national agreement and dragged the country into grinding wars and looted funds and destroyed economy with support from Iran. "This country is the real sponsor of terrorism of its two types; al-Qaeda and ISIS and Houthi-Saleh and alike."

While he asked support to restore the state, he said they are leading the country from the transitional capital of Aden. They are working on restoring institutions and on providing the government employees' salaries.

He concluded his speech by a call for cooperation and integration for fighting terrorism. He also called the international community to support Yemeni government's plan for fighting terrorism.



---

Leadership Council Chairman receives UN Special Envoy

Leadership Council chairman concludes visit to the United Arab Emirates

Al-Alimi: Restoring state institutions is the decisive guarantee for close partnership with int'l community

President al-Alimi participates in G-77 and China Summit's meetings

President al-Alimi warns of delay of facing challenges of climate changes

President al-Alimi holds meetings with participating presidents in COP 28

Chairman of Presidential Council arrives in Dubai to participate in climate summit

Leadership Council chairman welcomes temporary truce in Palestinian territories

Leadership Council Chairman receives UAE Ambassador

Leadership Council Chairman receives Egyptian Ambassador