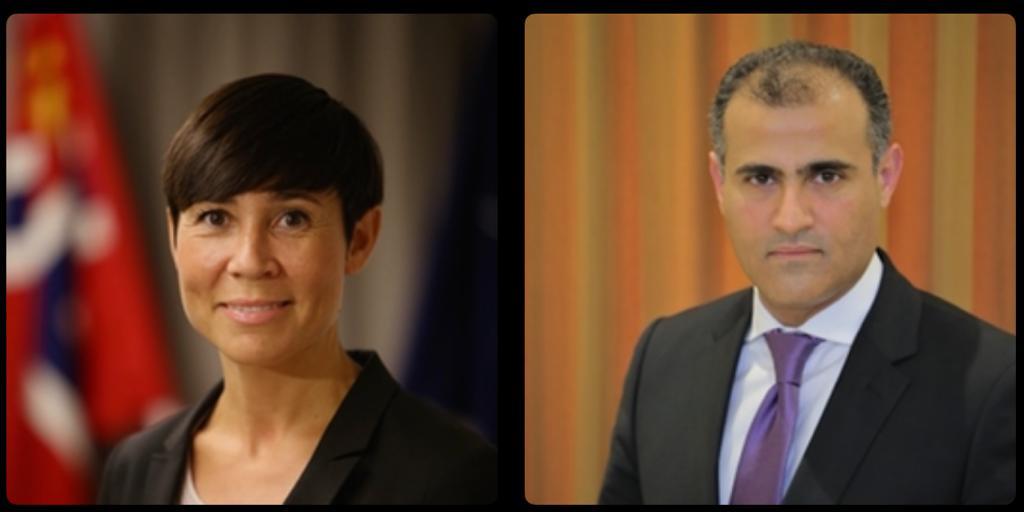 RIYADH-SABA
Foreign Minister Mohammed al-Hadrami discussed virtually Monday with his Norwegian counterpart Ine Marie Erickson bilateral ties between the two countries, political and humanitarian situations in Yemen as well as peace efforts.
Al-Hadrami voiced Yemen's appreciation for the Norway's role in supporting Yemen politically and its contribution to humanitarian actions including in the demining domain.
The Foreign Minister stated that the government is a keen peace seeker, reacted constructively to the UN envoy's proposals for making sustainable peace based on the well-known terms of reference.
He also welcomed the temporary prisoner exchange agreement in Geneva, asking for ramping up pressures upon Houthi militia to release all prisoners, detainees, enforced disappeared persons including the four persons incorporated by the UNSC's resolution.
Al-Hadrami condemned Houthi militia for closing Sana'a international airport for the UN's flights and humanitarian aids.
Concerning Riyadh Agreement he stated that the government fulfilled its obligations, meanwhile the South Transitional Council has continued to be reluctant about implementing its obligations namely getting the military units out of the temporary capital Aden
The Norwegian Foreign Minister expressed concerns about the deterioration of humanitarian situation, stressing the importance of reaching to political solution to the crisis in Yemen.
She stated that Norway is willing to contribute to the efforts aiming to get the Yemeni crisis resolved