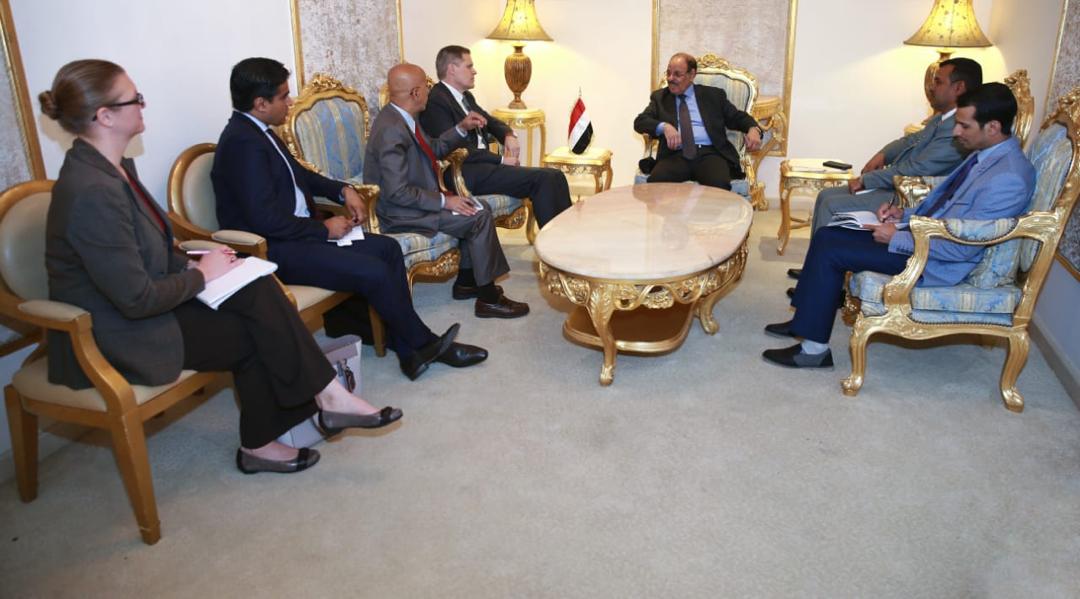 RIAYDH-SABA
Vice President (Lt Gen) Ali Mohssen Saleh met Tuesday with the American Ambassador to our country Mathew Tuller.
The meeting intended to discus latest political developments, situations in national arena and means to further boosting cooperation relations between the two friendly countries.
Discussions touched upon political developments and underway efforts aiming to establish peace in Yemen on the basis of the three terms of references including GCC's Initiative, its executive mechanism, outcomes of National Dialogue and International Security resolution 2216 in order eliminate the coup and restore the State.
The Vice President appreciated the American friends' principled stance in supporting legality, rejecting the coup, shoring up peaceful solution efforts and contributing to relief, shelter and humanitarian actions to alleviate the Yemeni peoples' suffering. He also voiced his thanks for Americans for their cooperation in training Yemeni cadres in borders' and coast guards.
The Vice President cited legitimate government's assiduous effort—backed by Saudi-led Arab Coalition—aiming to restore the State, re-normalize situations, re-establish security and stability and achieving peace. He reaffirmed that legitimate leadership headed by President of Republic—Commander-in-Chief, Field Marshal Abd-Rabbu Mansour Hadi has been very keen to make peace and put an end of the Yemeni peoples' torment created by Iran-backed Houthi militia's coup d'état.
(Lt Gen) Mohssen pointed out to several obstructions and obstacles facing the legitimate government that require joint efforts and support by brethren and friends. These obstacles include economic crisis, slide of Yemeni national currency and prices rise. He highly appreciated the supportive stand by the Kingdom of Saudi Arabia on the side of Yemenis to mitigate the economic crisis's impacts.
The Vice President stated that Houthis' criminal practices and atrocities against the civilians are in violation of norms, traditions and laws that Yemen had never experienced throughout its history.
Their atrocities include killing, kidnapping, looting and destruction such as the recent events in the capital Sana'a due to the population's opposition to Houthi's authority which has embarked on enriching itself and leaders at the expense of impoverishing the citizens.
The Vice President has made clear that political leadership led by President Hadi alongside with Saudi-led Coalition's support has been working on normalizing situations, reconstruction, re-establishing security and stability. He underscored the State's, society, brothers' and friends' rejection of any move may break up social fabric or create militia in parallel to the State because this will have disastrous impacts upon Yemen's security and stability and the region's as well.
For his part, the American diplomat expressed his pleasure to the robust security cooperation relations between the two countries, particularly training Yemeni personnel in coast guards and fighting terrorism.
Tuller reiterated his country's support for legality and peaceful solution' efforts.