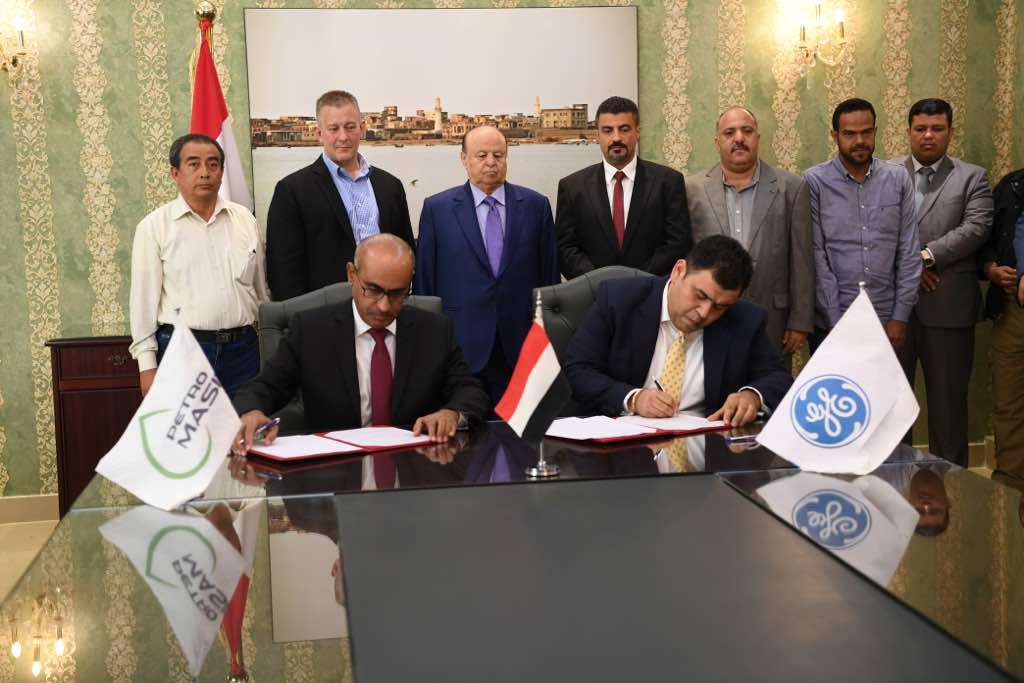 ADEN-SABA
A memorandum of Understanding (MoU) was signed Friday under which Aden's new power plant with total capacity 240MGW and Hudramout coast's electricity 100MGW to be established.
The MoU inked with the presence of President Abd-Rabbu Mansour Hadi between Betromassila Company on behalf of our country and the American General Electric Corporation. The MoU signed by Petromassila's Executive Director Eng. Mohammed bin Somait and Commercial Director General for Middle East and North Africa in General Electric Jajan Kakar.
President Hadi expressed pleasure for inking the MoU to establish this significant project , he said" Electricity has been a troublesome our people have been suffering from –in general—and the population of the coastal regions—in particular".
The President Added" Short-term and temporary solutions have proved too expensive to afford for a country with limited resources, while the problem frequently repeated, therefore we had to think of strategic solutions the interest of the entire Yemen. We commenced Hudramout the Valley and Desert where we could ensure self-sufficient of power through Petromassila and General Electric, today we signed a MoU for Aden new electricity with 240MGW and Hudramout coast's electricity with 100MGW".
The President affirmed that similar power-plant will be established in the provinces of Taiz, Hodeidah, Sana'a, Marib, Shawbwah and Al-Maharah.