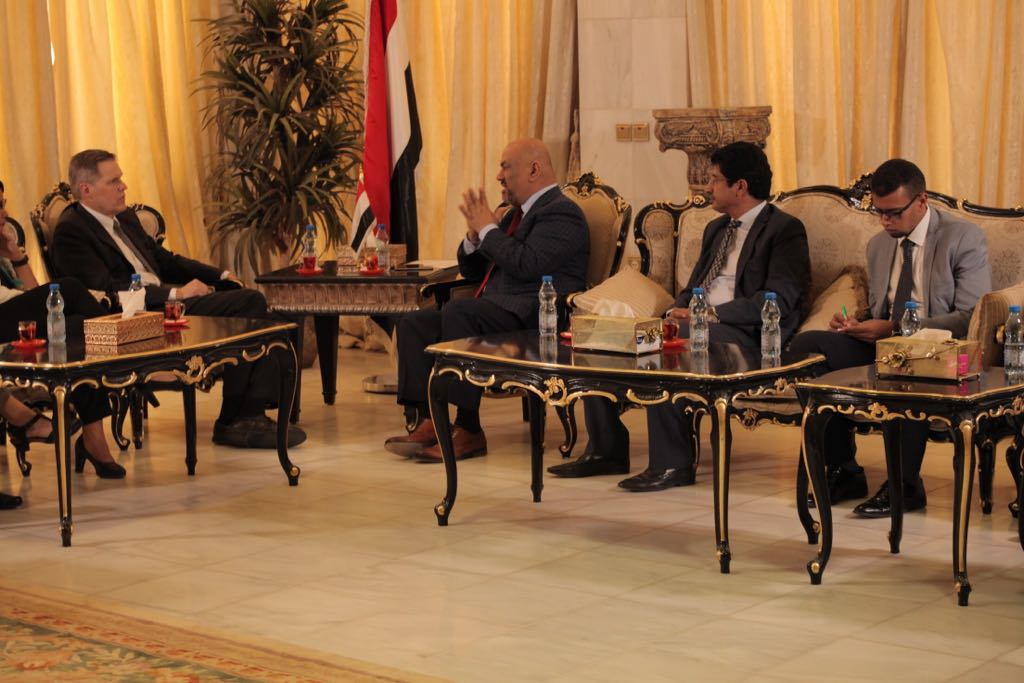 RIYADH-SABA
Foreign Minister KhaledAlyemanytold the US ambassador to Yemen Matthew Tuellerthat the Yemeni government was positive in its reaction with the initiative offered by the UN Secretary General's Special Envoy for Yemen Martin Griffiths regarding Hodeidah city.
Both Griffiths and his predecessor Ismail OuldCheikhhad offered proposals for a peaceful handover of the Red Sea port city by the Houthi militia, which was repeatedly accepted by the government and totally dismissed by the militia.
Alyemany noted in the meeting with Tueller they held in the Saudi capital Riyadh on Tuesday that Griffiths' initiative provides for the full withdrawal of the Houthis from thecity, the city's main port, the secondary ports of Ras Isa, al-Saleef and other areas of the western coastline. As per the initiative forces from the internationally recognized government's Interior Ministry shall take over in Houthis place.
He said that "to give this initiative a chance, the government and the Arab Coalition were the first to declare a ceasefire from their side." He said that the coupist militia, however, continued stubborn in rejectingthe idea of withdrawal altogether.
He said that the initiative conforms with the UN Security Council resolution no. 2216 which provides for the rebel militia's withdrawal from cities and state institutions and handover of arms to the state.
Alyemany said the military operation in Hodeidah is going on according to a carefully studied plan that fits with the international humanitarian law. He reiterated the government's commitment to maintain the seaport operational to admit commercial goods and humanitarian aid into Yemen.
He praised the United State's support to the restoration of the Yemeni state and achievement of security and stabilityinYemen.
The US ambassador on his part pointed that the three relevant terms of reference are the key to achieving a sustainable peace. He also appreciated the government's positive reaction to the efforts of the UN to revive the peace talks.