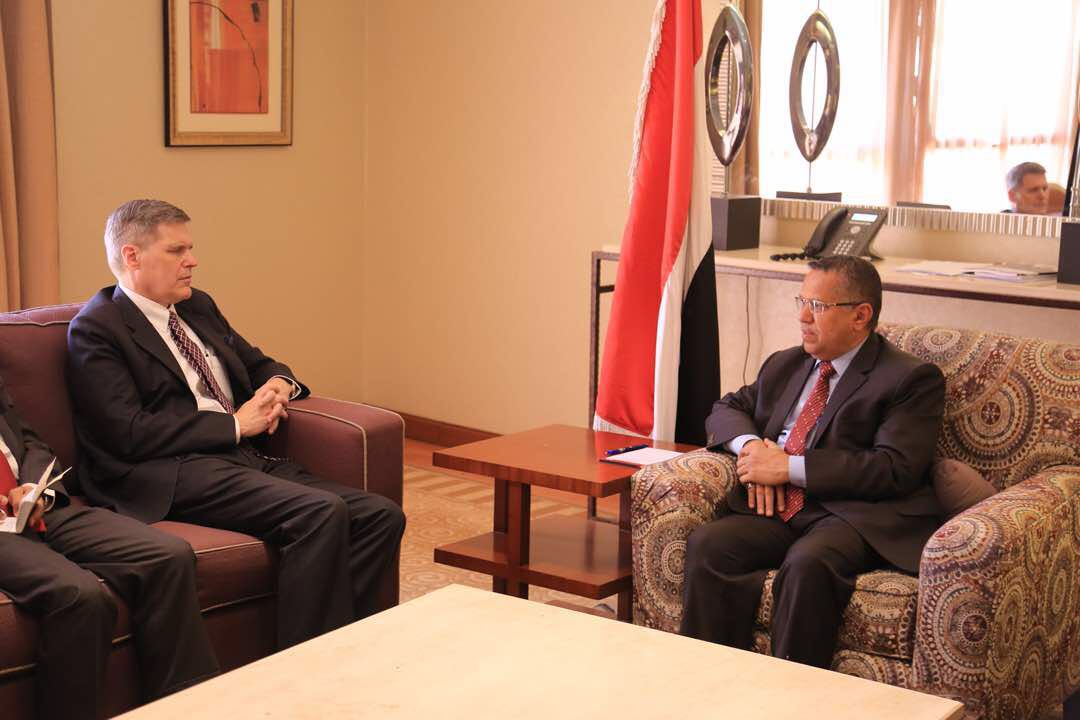 RIYADH-SABA
Prime Minister Dr Ahmed Obeid Bin-Dagher received Tuesday US ambassador to our country Mathew Tuller.
Aspects of Yemeni-American cooperation, issues of common interest and underway efforts aiming to establish peace in Yemen were a key focus of Dr Bin-Dagher's conversations with Mr Tuller.
Yemeni-American cooperation in fighting terrorism was also touched upon.
The Prime Minister reiterated that the legitimate government will continue to support any effort may press the rebel militia to come to peace that is based on the three terms of reference.
He said:" The legitimate government once again says repeatedly to brothers, friends and international community that the key solution to the ongoing war triggered by armed- rebel militia is to deal firmly with its reasons by putting down the coup d'état and reinstating the official authority in line with the three terms of reference for the political settlement: GCC's Initiative, outcomes of National Dialogue and UNSCRs, namely 2216".
Bin-Dagher voiced thanks and appreciation for the US administration's support for the legitimate government and Yemeni people.
The US diplomat has reiterated the US stance in supporting the legal government; appreciating the Yemeni government's role in fighting terror.