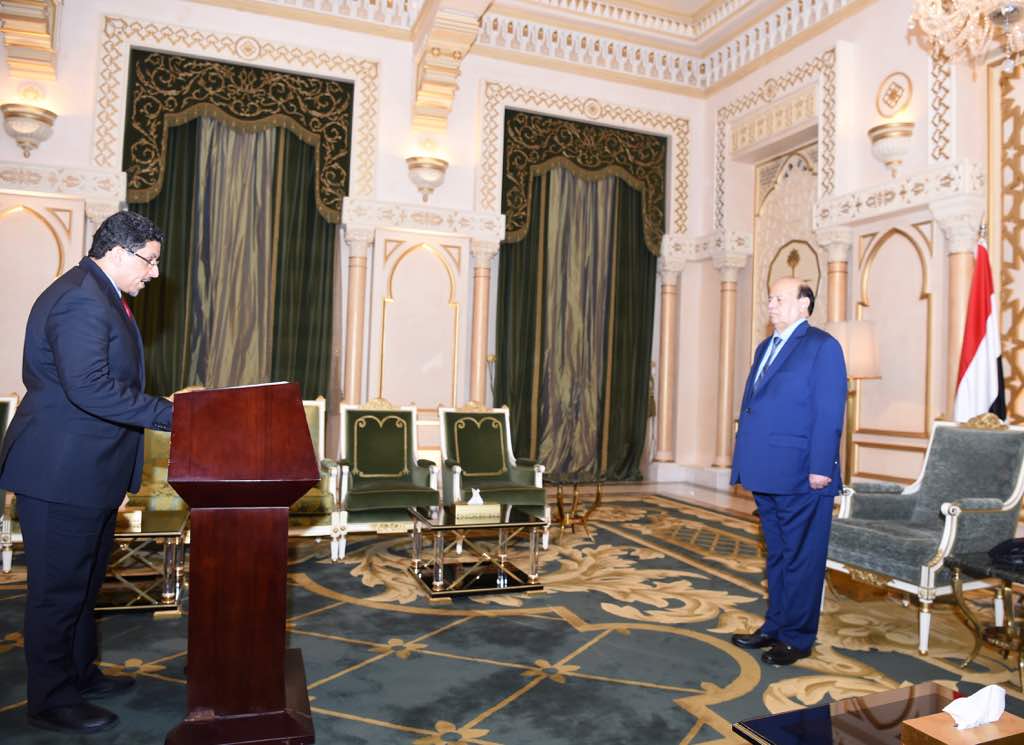 RIYADH-SABA
Dr. Ahmad Awadh bin-Mubarak took the constitutional oath on Sunday before President Abd-Rabbo Mansour Hadi as Permanent Representative of Yemen to the United Nations in addition to his duty as Ambassador to the United States.
In a meeting after the oath, President Hadi directed bin-Mubarak to double his efforts in this critical and difficult stage Yemen is going through, as this stage requires active diplomatic performance to show the real situation in Yemen- to the international community- and issues and challenges it faces over Houthi coup against the outcomes of the National Dialogue Conference and the national consensus for serving Iranian agenda.
President Hadi confirmed the victory of the Yemeni will, which is supported internationally and supported in battlefields against Houthis by the Saudi-led Coalition.
Bin-Mubarak expressed his pleasure for the trust given by President Hadi, confirming that he will do his best to represent Yemen honestly within visions drawn up by the political leadership under President Hadi, the leader of the national project of the new Federal Yemen based on justice, equality and good governance.
"We will work with all brothers and friends for bringing victory to our country, regaining its legality and achieving peace based on the three references," said the newly appointed representative of Yemen to the UN.
He added these references are based on the GCC Initiative and its timely implementation mechanism, the outcomes of the National Dialogue Conference and related UN Resolutions led by Resolution 2216.