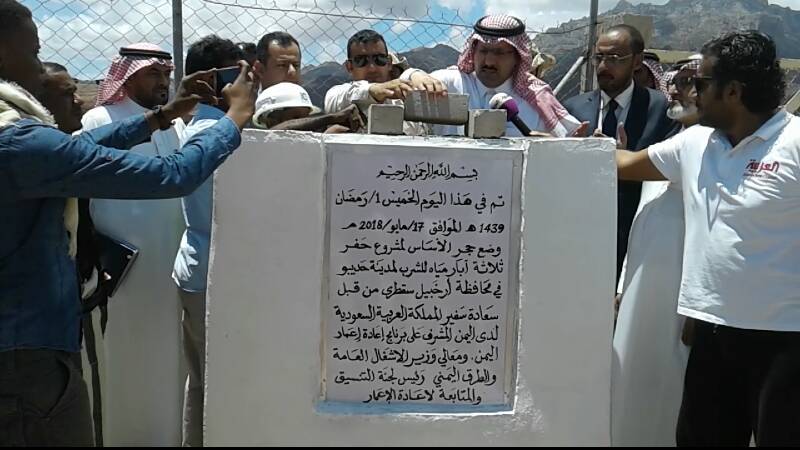 SOCOTRA-SABA
Minister of Public Works and Roads, the Deputy Chairman of the Committee for Coordination and Follow-up on Development Projects Dr. Moeen Abdulmalik, the Minister of Fish Wealth Fahd Kafayen and the Saudi Ambassador to Yemen, the General Supervisor of Reconstruction in Yemen, Ambassador Mohammed Al Jaber have laid the foundation stone for three drinking water wells in Socotra.
The two ministers and the Saudi diplomat are currently in Socotra archipelago to launch Yemen's reconstruction and development projects from there, as per the directives of King Salman bin Abdulaziz Al Saud and Crown Prince Mohammed bin Salman bin Abdulaziz Al Saud.
Laying the foundation stone for drilling wells comes as an inauguration to those projects.
Abdulmalik the projects in Socotra will be mainly water and power, projects of impact on the daily lives of the population.
Al Jaber said that the wells project will be implemented within two months.
He confirmed that as per the directives of the Saudi King and Crown Prince, and in coordination with the Yemeni government, Saudi Arabia takes upon itself to supply the required fuel for power and water generation to the local authority so as to reduce their production bill and maintain their supply to the public around the clock.
Then, the Yemeni ministers and Saudi diplomat visited the seaport of Socotra and closely looked at the progress of work its development and its needs to function as the archipelago's sole port.
They also visited the oil tanks of a private company (Al-Issa)to check their capacity and consider their lease to store the archipelago's fuel reserves.