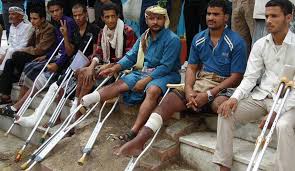 TAIZ -SABA
The war the Houthi rebels have been waging against Yemen's southwestern city of Taiz since March 2015 has so far left 21,103 military personnel and civilians disabled.
The Deputy Governor of Taiz for Health Affairs Elan Abdul-Haq made these remarks in a press conference organized by the local Medical Committee in charge of the treatment and referral of the war-wounded persons.
She said that since the beginning of this year, the committee has diagnosed 1662 patients and approved the referral of 156 persons for treatment outside the country.
The committee has spent YR 458,354, 641 in costs of treatment for the wounded and expenses of the patients' escorts, as well as in settlement of debts to local companies, pharmacies and hospitals.