[18/07/2023 02:45]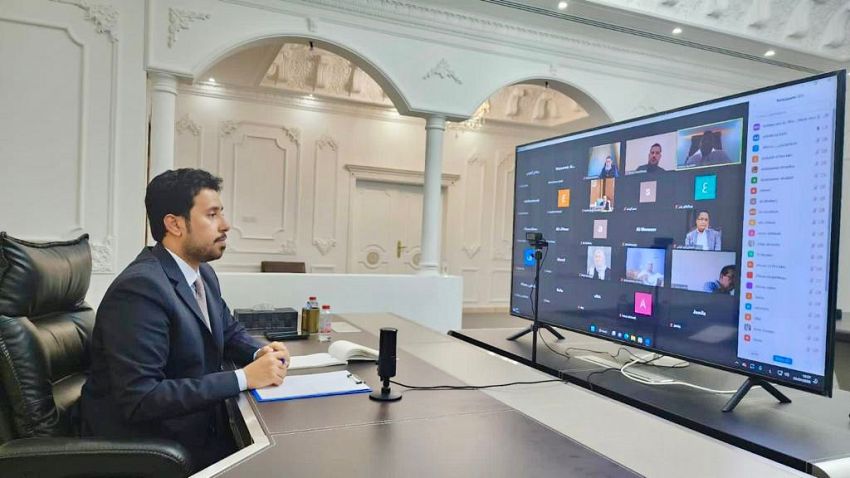 Aden - Saba
Today, the Consultation and Reconciliation Commission held a video meeting chaired by the Chairman of the Commission, Muhammad Al-Ghaithi, and in the presence of his deputies, Dr. Abdul-Malik Al-Mikhlafi, Sakhr Al-Wajih, Jamila Ali Rajaa, Judge Akram Al-Amiri, and members of the Commission.

At the outset of the meeting, the Presidency of the Commission provided a number of briefings on the external participations that took place during the past month, in Oslo, The Hague, and London, as well as details of accompanying His Excellency the President on his visit to Mukalla in Hadramout Governorate, and developments in the events that took place in Taiz Governorate.

The Commission discussed the draft presented by the Presidency of the Commission, which included the goals and strategy of the Consultation and Reconciliation Commission, which included working on many tracks, according to what was stated in the declaration of the transfer of power, to ensure the support of the Leadership Council, the convergence of political forces, the restoration and activation of state institutions, the examination of peace opportunities, and the strengthening of relations with the coalition countries and Yemen's affiliation with its Arab incubator, the draft also contained a special track dealing with the mechanism of dealing with urgent issues and files in our country.

The commission approved the start of implementing the mechanism for forming permanent committees established by the internal regulations of the commission in accordance with the stipulated standards, which are the political committee, the cultural and media committee, the reconciliation and transitional justice committee, the social committee, and the committee on rights and freedoms, where the presidency of the commission conducts its contacts with the political components and members of the commission to ensure Fair and effective participation for all, leading to an integrated and organized work within the Commission.

In its meeting, the Commission also followed up on the continuation of the work of the temporary committees concerned with conducting more discussions and dialogues within the Commission on the common framework of the political process, the principles of reconciliation between political forces, and the Commission's bylaws, with the aim of expanding the area of consensus, approach, and strengthening the ranks of legitimacy.


---

Saudi Arabia, Qatar confirm full support to solving Yemen's crisis

Chief of Staff discusses with Egyptian Counterpart military cooperation

Electricity Minister, Korean Ambassador discuss cooperation in Energy

GCC confirms its full support for Presidential Leadership Council to reach political settlement

Water Minister participates in the first high-profile meeting on the fair transition

Yemeni embassy in Riyadh first station abroad to see launching of smart ID cards

Yemen condemns Israeli occupation forces' resumed aggression on Gaza

UN Security Council condemns acts of piracy and attacks on ships by the Houthi militias

President al-Alimi warns of delay of facing challenges of climate changes

President al-Alimi holds meetings with participating presidents in COP 28