[06/10/2022 01:23]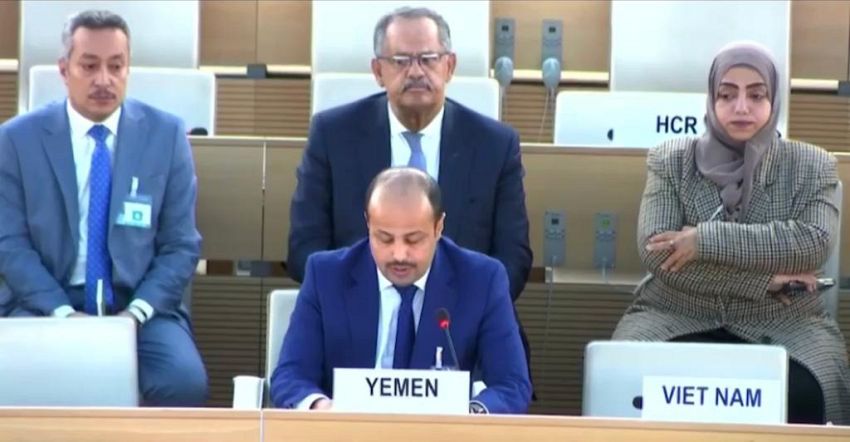 Geneva – Saba
The Yemeni government called on the members of the Human Rights Council to discuss the human rights situation in Yemen under Article 10 because Yemen needs support, technical assistance and capacity-building to enable the government to fulfill its human rights obligations, as well as encourage and support the National Commission of Inquiry to continue its work for accountability and justice in Yemen, which is what the draft resolution emphasizes under the tenth item.

In Yemen's speech at the 51st session of the Human Rights Council held in the Swiss city of Geneva, Minister of Legal Affairs and Human Rights Ahmed Arman expressed the government's aspiration to enhance cooperation with the High Commissioner and his office and with member states of the Human Rights Council in order to protect and promote human rights in Yemen.

He stressed that the government sees the positive evaluation that the High Commissioner's reports dealt with for three consecutive years as strong evidence of the continuation of the National Committee and that the level of support provided by the Office of the High Commissioner to be raised so that it can succeed in its mission.

He pointed to the efforts made locally, regionally and internationally during the 6-month truce, in which the Yemeni government committed to implementing all provisions of the truce agreement, including a comprehensive cease-fire on all fronts, allowing commercial flights to operate between Sanaa airport and a number of airports, and allowing fuel ships to enter Yemeni ports, including the ports of Hodeidah and Saleef in accordance with the ship control procedures approved by the United Nations.

Arman that the Houthi militia refused to implement the provisions of the truce agreement and practiced violations and armed terrorist attacks that led to the deaths of more than 300 military and civilian deaths and more than a thousand wounded, including women and children.


---

President of Leadership Council, Chinese President discuss latest Yemen developments

Chinese-Gulf Summit affirms support for Leadership Council in reaching solution

Supreme Council of Gulf States affirms support for Presidential Council

Saudi Arabia Crown Prince affirms support for efforts of comprehensive solution in Yemen

Parliament Speaker inspects expanding constructions in Makah Port

President al-Alimi arrives in Riyadh to contribute to Arab-Chinese Summit

Yemen participates in 15th Bali Democracy Forum

Al-Eryani: Iran's regime continues supply Houthi militia with weapons

Mahra Governor confirms significance of qualifying maritime navigation cadre

President al-Alimi flies to Riyadh to participate in Arab-Chinese Summit