[21/09/2022 03:54]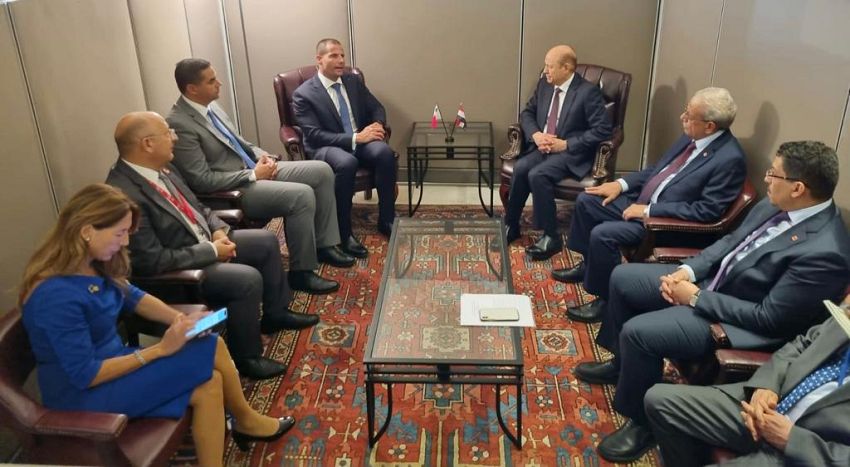 New York – Saba
His Excellency President Dr. Rashad Muhammad Al-Alimi, Chairman of the Presidential Leadership Council, met today, Wednesday, with the Prime Minister of the Republic of Malta, Dr. Robert Abela, to discuss the developments in the Yemeni file, and the desired role of the friendly European country as a member of the Security Council for the years 2023-2024.

The Chairman of the Presidential Leadership Council expressed the Council and the government's aspiration for an active role on the part of the Republic of Malta in the Security Council in terms of alleviating the suffering of the Yemeni people, and supporting efforts for a just and comprehensive peace, based on agreed references, including relevant international resolutions, especially Resolution 2216.

The meeting was attended by Director of the Office of the Presidency of the Republic, Dr. Yahya Al-Shuaibi, Minister of Foreign Affairs, Dr. Ahmed bin Mubarak, and Yemen's Permanent Representative to the United Nations Abdullah Al-Saadi.


---

Al-Alimi: 26 September revolution was not directed only against the backward regime, but was for the sake of life and dignity

President al-Alim leaves New York

President al-Alimi contributes to Seminar about the Yemeni Crisis

President al-Alimin briefs Yemeni community in New York on developments in the homeland

President al-Alimi discusses with UN Secretary General peace efforts in Yemen

President al-Alimi receives French foreign minister

President al-Alimi praises role of Arab League of supporting Yemen's issue

Chairman of Presidential Leadership Council calls for drastic shift in handling the Yemeni issue, standing up to Iranian interferences in the region

President al-Alimi meets with receives UNDP's director

Head of Presidential Council congratulates Saudi leadership on the National Day