[05/09/2022 03:33]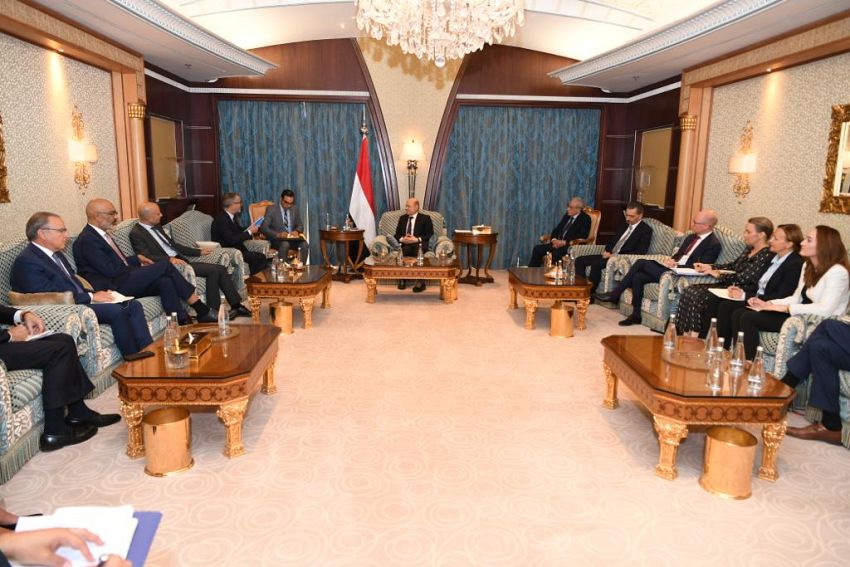 Riyadh – Saba
President Dr. Rashad Muhammad Al-Alimi, Chairman of the Presidential Leadership Council, received today, Monday, in the Saudi capital, Riyadh, the head of the European Union delegation and ambassadors and diplomatic representatives of 17 European countries to discuss the latest developments in Yemen and efforts to bring peace to the country.

The President of the Presidential Leadership Council welcomed the European ambassadors, touting their countries' unified position by the Yemeni people and their political leadership.

He also praised the recent European stances condemning the Houthi militia's violations of the humanitarian truce and the Stockholm Agreement in Taiz and Hodeidah.

The President of the Presidential Leadership Council briefed the European ambassadors on the latest developments on the Yemeni arena, including the institutional and service reforms led by the Council and the government with the support of the brothers in Saudi Arabia and the United Arab Emirates.

His Excellency the President affirmed the commitment of the Presidential Leadership Council to the option of a just and comprehensive peace in accordance with the three agreed references nationally, regionally and internationally.

He called on the international community to shoulder its responsibilities regarding the violations of the Houthi militia backed by the Iranian regime, and to put an end to its destructive project related to planting internationally prohibited mines and explosives, and threatening International shipping lines.

The President of the Presidential Leadership Council listened to the European ambassadors, an explanation of their coordinated efforts with the international mediators in order to enhance the chances of peace and alleviate the suffering of the Yemeni people.


---

FM: Evacuating all Yemeni citizens in Port Sudan evacuated

Arab-Chinese Forum puts emphasize on the unity, sovereignty and territorial integrity of Yemen

MASAM removes 875 Houthis-laid landmines in a week

Leadership Council chair praises GCC for supporting Yemen and its just cause

Higher Education Minister reviews with ILO implementing apprenticeship program

President al-Alimi convenes high-profile meeting includes Speakers of Parliament, Shura Council

Family killed and wounded as they drove over Houthi landmine in north Yemen

National Investigation Committee holds discussions with a team of Yemen Sanctions Panel

Eryani condemns Houthi storming of annual meeting of Baha'i sect and arrest of 17 participants

Dr. Abdullah al-Alimi praises American role in fighting terrorism, controlling weapons smuggling