[27/07/2022 03:06]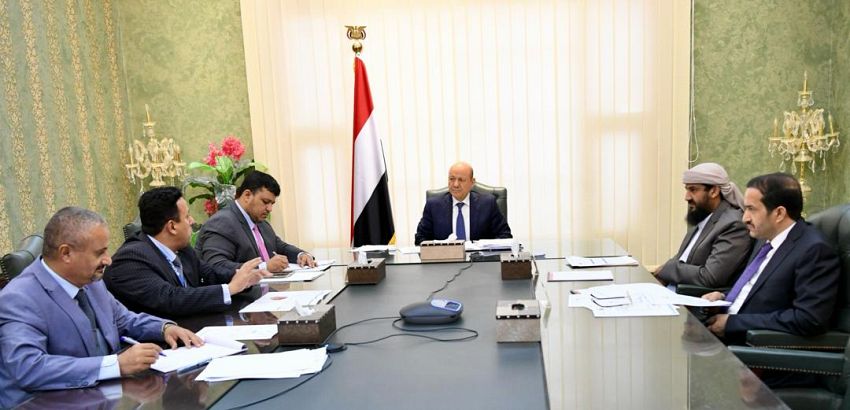 Aden – Saba
The Presidential Leadership Council, headed by His Excellency President Dr. Rashad Muhammad Al-Alimi, Chairman of the Council, continued discussing the file of institutional reforms and international development interventions in the infrastructure and service sectors.

The meeting was held in the presence of the council members, Abdul Rahman Al Muharrami, Dr. Abdullah Al Alimi, and Othman Majali, and through the visual communication Sultan Al Arada, Tariq Saleh, and Faraj Al Bohsani, while the council member, Aidarous Al Zubaidi, was absent with an excuse.

The Presidential Leadership Council reviewed a report from the advisor of the United Nations Office for Project Services, Dr. Khaldoun Salem Saleh, on the UN development and service interventions in a number of Yemeni governorates.

The report showed ongoing and expected projects in seven vital sectors, including urban and rural roads, sanitation, solar energy, institutional capacity building, and human resources.

In this context, the Council commended the role of the UN Projects Office in Yemen, the efforts of its staff and the importance of close coordination with government agencies in programming priorities in various sectors.

The council also discussed a number of issues on its agenda in terms of reforms, normalizing administrative conditions, and improving services in some governorates.

The Presidential Leadership Council had listened to a brief review of its previous decisions and orders, and the procedures and treatments coordinated with the relevant authorities.


---

Presidential Leadership Council confirms commitment to comprehensive sustainable peace, eliminate coup

President al-Alimi receives an invitation from Algerian President to join Arab Summit

President of Leadership Council congratulates Egyptian President on October victories

President al-Alim praises UAE's support for the Yemeni people

President al-Alimi congratulates German President on his country reunion anniversary

President al-Alimi receives German Ambassador to Yemen

President al-Alimi receives UN's Envoy to Yemen

President al-Alimi congratulates President Xi Jinping on his country national day

President al-Alimi receives presidency of reconciliation authority

Presidential Leadership Council Chairman Receives US Ambassador