[15/07/2022 03:07]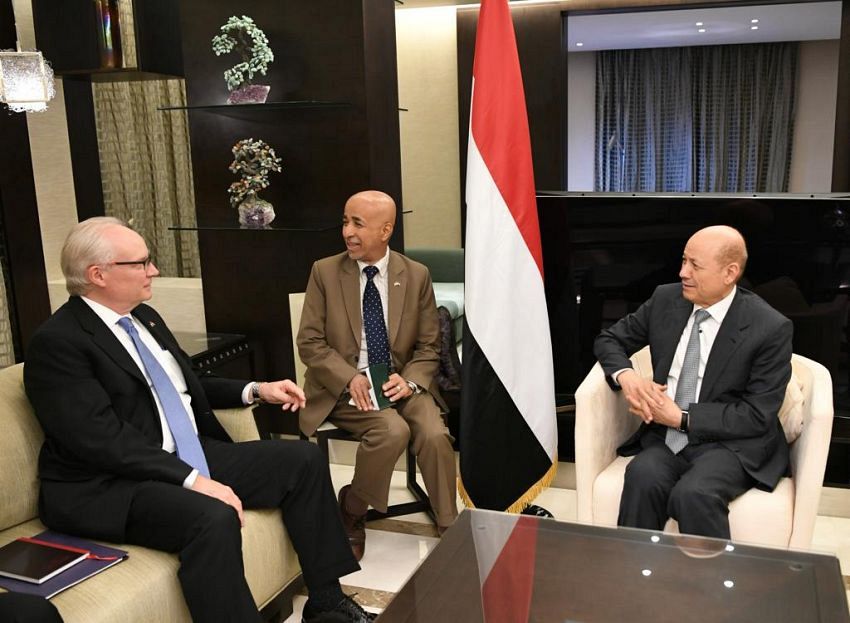 Jeddah - Saba
His Excellency President Dr. Rashad Muhammad Al-Alimi, Chairman of the Presidential Leadership Council, received on Thursday, at his residence in Jeddah, the US envoy to Yemen, Timothy Lenderking, to discuss Yemeni developments and regional, international and international efforts to revive the peace process in the country.

In the meeting, the Chairman of the Presidential Leadership Council welcomed the efforts of the US government and its special envoy to alleviate the human suffering of the Yemeni people, support their constitutional legitimacy, and their aspirations to restore their state, and end the Houthi coup that put Iran's expansionist interests over the interests of the Yemeni people.

In this context, the President stressed the importance of doubling the US and international pressures, in order to push the militias to fulfill their obligations under the truce agreement, warning against using the revenues of oil derivatives and humanitarian facilities through the ports of Hodeidah to support their war effort and hostile operations with terrorist organizations.

The Chairman of the Presidential Leadership Council praised the brotherly and humanitarian role played by the Coalition to Support Legitimacy, led by the Kingdom of Saudi Arabia and the United Arab Emirates, in preventing a comprehensive collapse of the state and limiting the repercussions of the worst humanitarian crisis in the world created by the Iranian-backed Houthi militia.

The Chairman of the Presidential Leadership Council expressed his confidence that US President Joe Biden's tour in the region, including the upcoming Arab-US summit, will contribute to correcting the distorted picture regarding the situation in Yemen, the roots of the crisis, and optimal approaches to reach a sustainable peace based on national, regional and international references.

For his part, the US envoy praised the economic and service reforms led by the Presidential Leadership Council, stressing the US administration's keenness to support these reforms and enhance the Yemeni government's access to all resources.

He expressed his hope that international efforts would lead to a breakthrough in tackling the Taiz siege issue, and to extend the humanitarian truce and build on it for a comprehensive cease-fire in Yemen.


---

Leadership Council Chairman stresses private sector's leading role in development

Leadership Council Chairman receives German delegation

President al-Alimi confirms independence of Judiciary

President al-Alimi holds a meeting with Defense Minister, Commanders of Fourth Military Region

President al-Alimi holds session with Board of Directors of the Central Bank

Chairman of Leadership Council stresses importance of strengthening role of control and audit agencies

President al-Alimi directs forming committee to control fish prices

President al-Alimi receives credentials of new Portuguese ambassador to Yemen

President al-Alimi receives European ambassadors

Brig. Bashir Saif Ghobair appointed as Commander of the Homeland Shield Forces