[09/06/2022 03:03]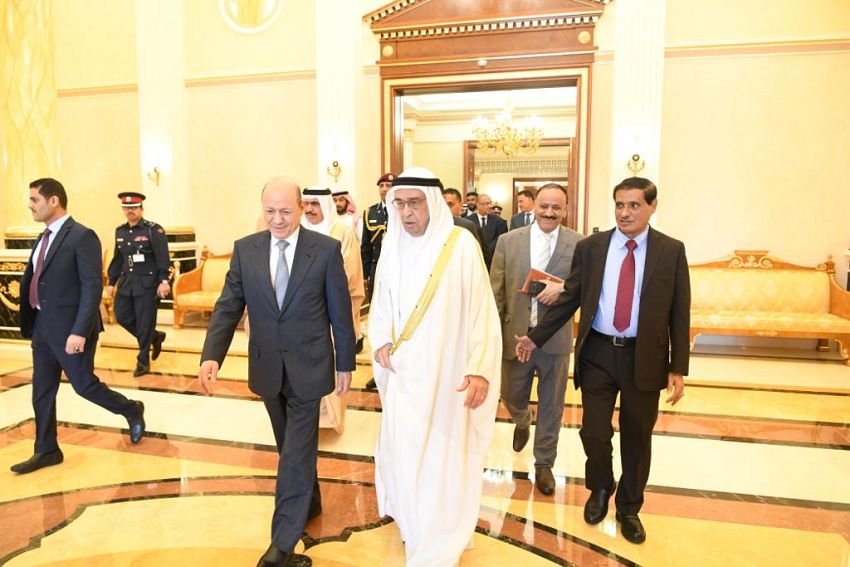 MANAMA - SABA
President Rashad al-ALimi Chairman of the Presidential Leadership Council (PLC) met today, Thursday, the Deputy Prime Minister in the Kingdom of Bahrain Sheikh Mohammed bin Mubarak al-Khalifa.

Al-Alimi arrived yesterday in Manama on an official visit to the Kingdom of Bahrain.
The President highly praised the distinguished bilateral relations with the Kindom of Bahrain under the leadership of His Majesty King Hamad bin Issa al-Khalifa and His Crown Prince, His Highness Prince Salman bin Hamad al-Khalifa.

He deeply appreciated the Bahrain significant diplomatic support for the Yemeni cause at regional and international forums and its active contribution through the Saudi-led Arab Coalition in support of legitimacy.

The Chairman of the PLC said that he confidence in the supportive stances of the brothers in the Saudi-led Arab Coalition in support of legitimacy and in the GCC in support of the PLC's economic, political and military reforms within the course for restoring the State and eliminating the Iran-backed Houthi militia's coup, alleviate the Yemeni peoples' suffering and prevent Yemen to be a hostile Launchpad for attacks on the neighboring countries and threatening the International maritime navigation.

For his part, the Bahrain welcomed the visit of the Chairman of the PLC and his accompanying delegation, praising Yemeni-Bahrain historical relationship.

The Deputy Chairman of the PLC Faraj al-Bahssani, Foreign Minister Ahmed bin Mubarak, Minister of Planning Wa'id Batheeb, Minnister of Transport Abdussalam Humaid and Minister of Health Qasem Buhaibeh and Executive Director of the Apparatus of Absorbing Donors' Pledges Afrah al-Zouba were in presence.

From the Bahrain side, Minister of Interior (Lt Gen) Sheikh Rashid bin Abdullah al-Khalifa, Foreign Minister and Chief of Ceremonies Dr. Abdullatif Azyani were in attendance.


---

President al-Alimi receives Emir Khaled bin Salman

President al-Alimi congratulates HRH Crown Prince Mohammed bin Salman for being appointed Prime Minister

President al-Alimi praises the Chinese support for Yemen

Presidential Leadership Council Chairman receives UN Special Envoy

President al-Alimi receives Chairman of European Commission

President of Leadership Council receives congratulations from Saudi leadership on revolution anniversary

Al-Alimi: 26 September revolution was not directed only against the backward regime, but was for the sake of life and dignity

President al-Alim leaves New York

President al-Alimi contributes to Seminar about the Yemeni Crisis

President al-Alimin briefs Yemeni community in New York on developments in the homeland