[19/04/2022 08:51]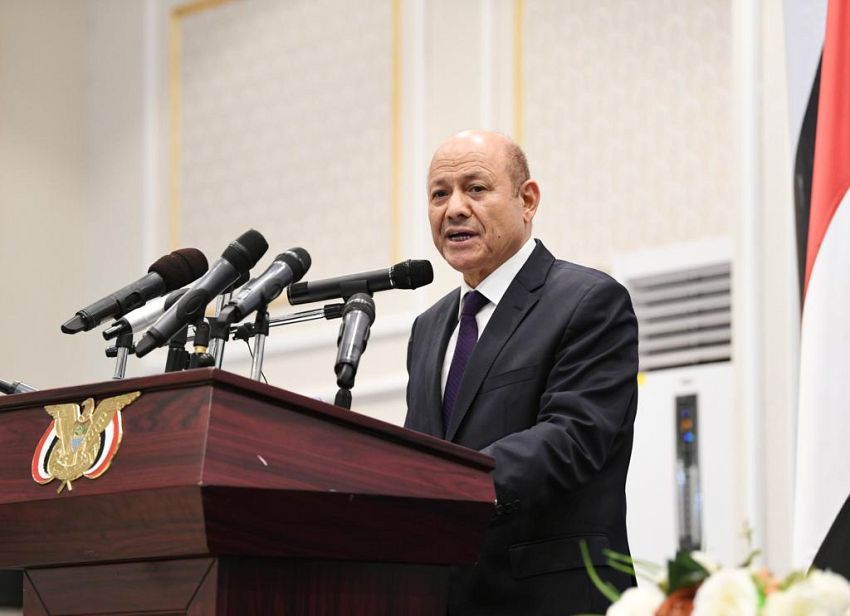 ADEN - SABA
President of the Presidential Leadership Council Rashad al-Alimi has announced that the council will work as one team and is committed to Yemeni people in the north and the south on proceeding with the national partnership to face all political, military, security, economic and social challenges led by ending the coup and war and regaining the state and building the economy.

" The council will work seriously and honestly for the sake of peace and its hand will be extended to just and sustainable peace which will protect the state and its constitutional institutions, the republican system and national unity," said al-Alimi after taking the constitutional oath before the parliament today, Tuesday in Aden.

He reiterated that the admirable peace will be based on the popular will and will gain the national consistence as it is embodied in the outcomes of the National Dialogue Conference and agreements of the transitional period, which has been organized by the Gulf Initiative and Riyadh Agreement.

President al-Alimi touched upon the military and security institution as he considered it one of the key foundations of stability and that the presidential council's task is "to protect its personnel and institutions, enhancing its role protecting the homeland and its sovereignty and to protect accomplishments of the two Yemeni Revolutions September and October."
He said that realizing security and stability and unity of the military and security institution is the foundation of the work of the Presidential Leadership Council and the government to face challenges of regaining the state and its institutions and realizing peace and stability.

He confirmed that the council is committed to the international consensus regarding the Yemeni issue, which is represented in the UN Security Council's relevant resolutions led by Resolution No. 2216.

The Presidential Leadership Council will give big concern to the file of fighting terrorism in all of its forms in cooperation with brothers and partners from international community, as well as securing the international navigation and protecting Yemeni coasts and fighting smuggling, he said.

President al-Alimi confirmed that that the council will work on paying salaries of government employees and affiliates of the national army, keeping the price of the national currency stable, collecting all the state resources, reducing expenses and improving living conditions of Yemeni people.


---

President al-Alimi: We're very keen to get all detainees released

President al-Alimi meets with presidency of consultation authority

Presidential Leadership Council holds session over military, economic developments

President al-Alimi receives French Ambassador

President of the Sudanese Sovereignty Council receives Yemen FM

Leadership Council chairman exchanges Ramadan good wishes with Arab and Muslim counterparts

President al-Alimi: Yemenis strongly united with International Community about the Yemeni cause more than ever

Leadership Council chairman receives China's acting ambassador

President al-Alimi receives Ambassadors of European Union, the Netherlands

President al-Alimi calls for general reconciliation in Aljawf governorate