[04/04/2022 08:49]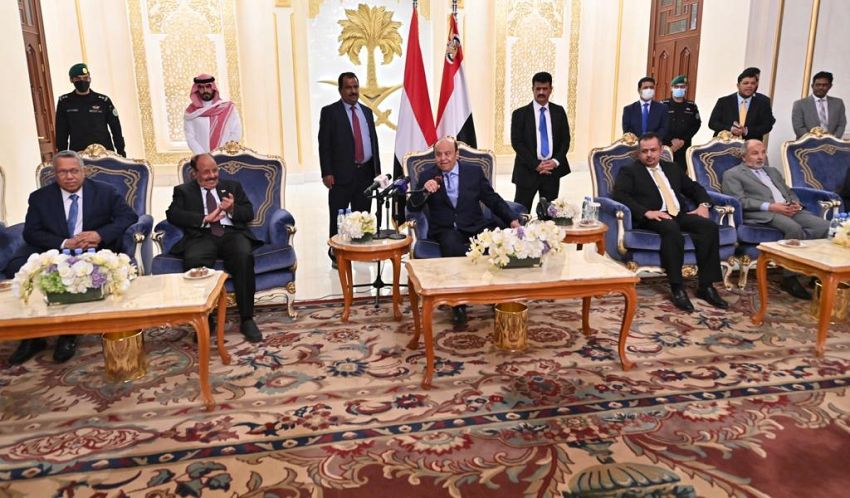 RIYADH - SABA
The President of the Republic Abd-Rabbu Mansour Hadi called on the Houthis to come to peace consultations, sit-down together to negotiate political settlement that can produce a fair and comprehensive peace.

He said" I'm telling you come back as a Yemeni political component adheres to national republican principles, the union and democracy, come to the negotiations to make peace for our Yemeni people, let's return to build the civil federal Yemeni state we agreed to establish in the National Dialogue Conference, distance yourselves from Iran's destructive schemes, come to heal our war-torn country' injuries, let's make our loyalty to the single great Yemen.

The President added" Our hands are extended to you for a fair and comprehensive peace based on the three terms of peace references including the GCC's Initiative, its executive mechanisms, outcomes of the National Dialogue Conference and the UNSCRs, namely 2216".

His statement came as he delivered speech this at the dinner banquet he held this evening for the government's senior officials, members of Parliament, Shura Council, President's advisors and social dignitaries.

President Hadi urged all political forces and constituencies to engage constructively in the Yemeni-Yemeni consultations under the auspices of the GCC to come up with recommendations that help to strengthen the national front and establish a state of strong institutions.

The President of the Republic also appealed to the Saudi-led Arab Coalition to offer the Yemeni people a hand of help. He said " I'm calling on you, as you have always been standing with the Yemeni people, provide an urgent economic package to alleviate the burden of this war, as your brothers in Yemen are suffering hunger, poverty and disease due to this devastating war".


---

Leadership Council chairman receives UN Special Envoy

resident al-Alimi congratulates Italian President on his country's National Day

President al-Alimi receives American Ambassador

Leadership Council chair praises GCC for supporting Yemen and its just cause

President al-Alimi congratulates Turkish president on winning elections

President al-Alimi convenes high-profile meeting includes Speakers of Parliament, Shura Council

President al-Alimi praises UK's support for the Yemeni people

President al-Alimi receives Ambassador of the People's Republic of China

President al-Alimi discusses with UAE President latest developments in Yemen

President al-Alimi arrives in Abu Dhabi