[20/12/2021 11:53]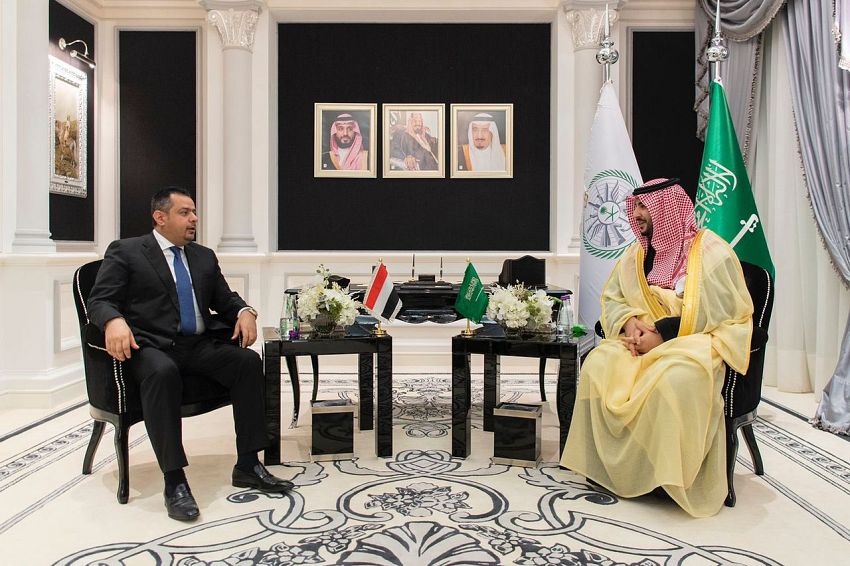 Riyadh - Saba
Prime Minister, Dr. Maeen Abdulmalik Saeed, met this evening, in the Saudi capital, Riyadh, the Deputy Minister of Defense of the Kingdom of Saudi Arabia, His Royal Highness Prince Khalid bin Salman bin Abdulaziz.

During the meeting, they discussed joint cooperation relations, developments on the Yemeni scene in various fields, foremost of which is the fateful battle against Iran's bloody agenda in Yemen, unifying the national rank to win this existential battle, and proceeding to complete the implementation of the Riyadh Agreement.

During the meeting, it was emphasized to strengthen coordination to support the battle within the framework of the continuous brotherly support of the Saudi-led Coalition to support legitimacy.

The two sides stressed that the military escalation practiced by the Iranian-backed Houthi militia, especially its continuous attack on Marib, targeting civilians and displaced people, and the repeated targeting of civilian objects in the Kingdom of Saudi Arabia, rejecting all opportunities and calls for peace and a cease-fire, and defying the binding decisions of the international community, puts the Yemeni government and people in its various components., political and societal parties, and the members of the coalition, face their responsibility in confronting the terrorist and racist Houthi militia and Iran's bloody influence in the region.

During the meeting, the efforts and initiatives of the Kingdom of Saudi Arabia aimed at achieving security, stability and peace in Yemen were also discussed.

The two sides reviewed the economic situation in Yemen, the reforms implemented by the government, the aspects of support and the required needs, in the immediate term to achieve monetary stability and control the exchange rates of the national currency.

The Yemeni Prime Minister briefed the Saudi Deputy Minister of Defense on the general situation in various political, military, security, economic and service aspects, and the efforts made by the government, under the directives of His Excellency President Hadi to deal with them, and the aspects of support required to fulfill its obligations and the expected support from the Kingdom.

Dr. Abdumalik affirmed the government's intention to continue implementing reforms, combating corruption and overcoming the existing imbalances, and what it made in this aspect, including changing the leadership of the Central Bank of Yemen and assigning a team to review its work during the previous period.

The Prime Minister praised the Kingdom's continuous support in all fields, and stressed that the Kingdom's support for the Central Bank had a significant impact on the stability of the Yemeni currency, the economic situation and the availability of foodstuffs to improve the livelihood of the Yemeni people.


---

FM: Evacuating all Yemeni citizens in Port Sudan evacuated

Arab-Chinese Forum puts emphasize on the unity, sovereignty and territorial integrity of Yemen

MASAM removes 875 Houthis-laid landmines in a week

Leadership Council chair praises GCC for supporting Yemen and its just cause

Higher Education Minister reviews with ILO implementing apprenticeship program

President al-Alimi convenes high-profile meeting includes Speakers of Parliament, Shura Council

Family killed and wounded as they drove over Houthi landmine in north Yemen

National Investigation Committee holds discussions with a team of Yemen Sanctions Panel

Eryani condemns Houthi storming of annual meeting of Baha'i sect and arrest of 17 participants

Dr. Abdullah al-Alimi praises American role in fighting terrorism, controlling weapons smuggling