[12/09/2020 08:02]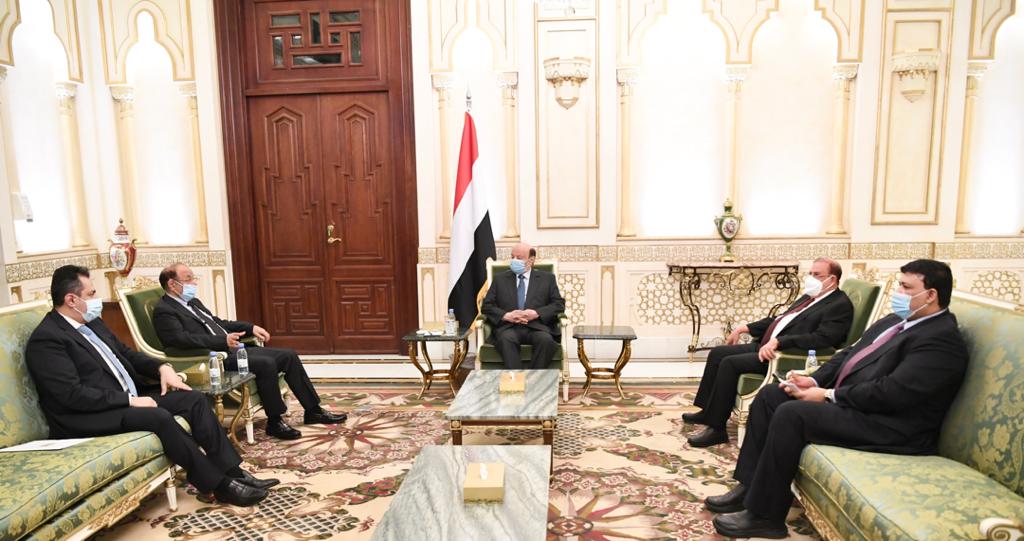 RIYADH - SABA
The President of the Republic Abd-Rabbu Mansour Hadi presided over a high-profile meeting brought together Vice President (Lt Gen) Ali Mohsen Saleh, Speaker of Parliament Sultan al-Brakani and the caretaker Prime Minister Dr. Ma'een Abdulmalik.

The session devoted to discuss the most important developments in the national scene, mainly the situations of basic services, peoples living conditions and ongoing combat operations in the flashpoints against Houthi rebels.

The President stressed on the importance of redoubling and joining efforts of the state's institutions and apparatuses to help improving basic services and alleviating the peoples' suffering which created and worsened by the forces of the insurgence and coup.
President Hadi highly appreciated the huge sacrifices have been extended by the armed forces, national resistance fighters and Yemeni tribes who are contributing to the ongoing fighting in the battlefields.

Hadi also praised the efforts of the brothers in the Saudi-led Arab Coalition in support legality in Yemen, deeply appreciating their constant support for Yemen in different levels and spheres.

The President emphasized the need for acting sincerely and earnestly to accelerate the implementation of Riyadh Agreement's articles that is in the interest of the whole Yemeni people.

The Vice President provided brief report about the ongoing combat operations in several fronts and regions including Marib, Aljwaf, Albaidha, Al-Dhale'a and the coastline.

The Speaker of Parliament and Prime Minister briefly reported about a number of topics relating to the state institutions' action.




---

Yemen won't be fine as long as terrorist militias continue to kill & besiege our people, says Hadi

Hadi phone calls Marib governor to inspect situations

Hadi checks on health of Aden Governor, Minister of Agriculture

President Hadi orders probe into assassination attempt targeted Aden Governor, Agriculture Minister

President orders providing relief aid to those affected by the floods in Hadhramaut

President directs providing help to people in Hadhramout over heavy rains

President Hadi congratulates his Egyptian counterpart on the 6th of October Victory

President congratulates German counterpart on unity anniversary

President Hadi to Borrell: Our hands are still extended for peace

President Hadi meets German deputy foreign minister