[21/08/2019 02:00]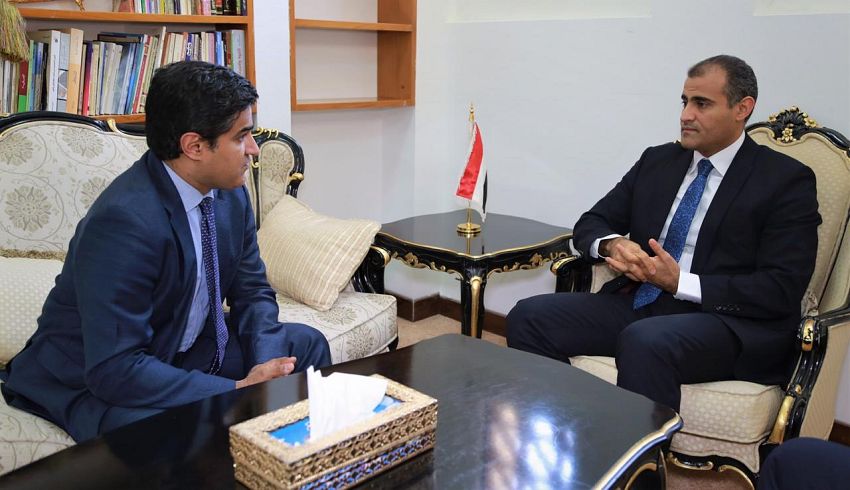 RIYADH-SABA

Vice Minister of Foreign Affairs Mohammad al-Hadhrami discussed Wednesday with US Charge D' Affairs in Yemen Junaid Muneer peace process and situations development in Aden and Abyan after Southern Transitional Council's armed rebellion.

Al-Hadhrami confirmed that the government will not hesitate to face everything harming Yemen's security and stability and will work on ending the UAE-backed armed rebellion by all means entrusted by the constitution and the law on the bases of its responsibility on protecting the republic of Yemen and its security and stability.
He confirmed that Yemen held the UAE accountable on the armed insurgency.

He renewed call for stopping financial support by the UAE and withdrawing military support from the transitional council.
He called on the international community, especially the UN Security Council, to denounce this rebellion against the government, pointing out that this rebellion undermines efforts of appeasement not only called by Saudi Arabia but also UN efforts for ending Houthi coup.

"The government's position is clear and frank regarding participation in any dialogue with the transitional council and continues welcome to Saudi brothers' call but will not participate only after the transitional council respond to coalition's call on this regard," he said.

Regarding implementing Stockholm agreement, al-Hadhrami pointed out that the government continues positive dealing with efforts of the UN on the bases of the three references; the GCC Initiative, the outcomes of the National Dialogue Conference and UN Resolution 2216.

For his part, the US diplomat renewed US clear position supporting the government and Yemen's Unity and safety.
He also confirmed support to efforts of UN envoy to Yemen for reaching a solution to the crisis on the bases of the three references.


---

Chairman of PLC receives Saudi Deputy Minister of Defense to discuss fast-track for development assistance

Basohayb, UN discuss introducing equipment to implement plan to salvage Safer tanker

Marib government receives request from International Relief to open an office

Yemen warns of Houthi militia's excessive use of landmines

Al-Eradah discusses with US Ambassador latest developments in Yemen

Eryani: Escalated terrorist activities confirms increase in coordination between the Houthi militia

Government's plan to provide work to youth discussed

Al-Saadi meets representative of UN Secretary-General for children and armed conflict

PM chairs meeting with GACAM to discuss airports improvement

Al-Sa'adi reaffirms government's peace approach