[21/07/2018 02:10]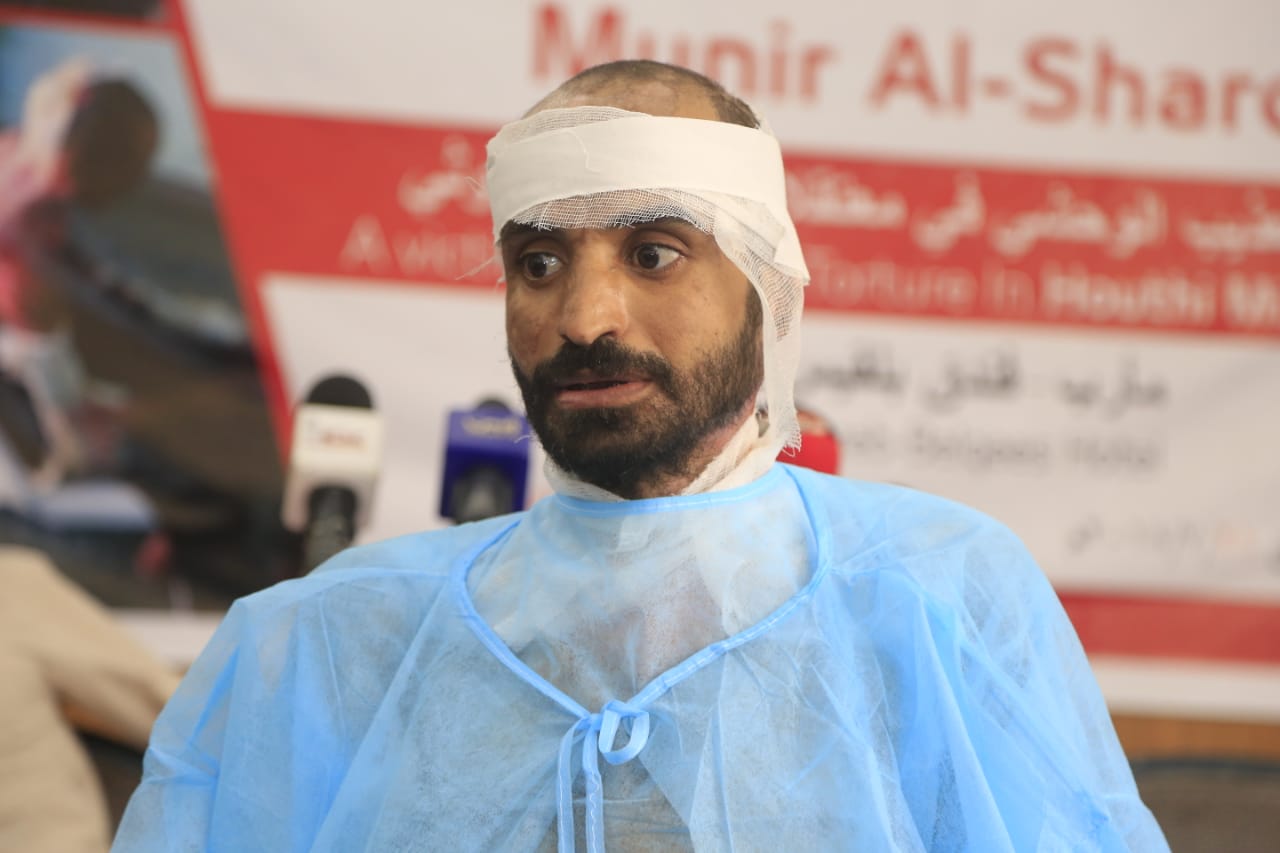 MARIB-SABA
Doctors in charge of treating Muneer Al-Mashriqi a political activist who spent a year in Houthi rebels jails and was released mad with abhorrent burns unveiled a picture of how he looked upon his hospitalization and the possible torture methods used against him.

In a press conference held on Saturday in Marib, where Al-Mashriqi made his final escape, doctor Mohammed, Dr. Mohammed Faze'a who as the first doctor to treat him in Sharaab of Taiz city said: "Al-Mashriqi was brought to (our) healthcare center with his body all burns and worms pushing their way out of different spots in his skin and out of his nose. His tissues in several parts of his back and neck were totally burnt. Signs of torture with needle piercing were manifest in the undersurface of his foot."

"[As he arrived to the center] his appearance was very scary and painful. His smelly discharges were so strong that I was concerned he might turn off the other patients and cause them to leave ..so ahead of carrying first aid I had to begin with cleanup and disinfection works for him outside the center." Al-Mashriqi was given first aid before he moved to Taiz city and then to Marib where the press conference was held in the presence of Faze'a and the province's local reporters, activists and government officials including deputy governor Abdu-Rabbu Miftah.

Abduraqeeb Faze'a the man who first found Al-Mashriqi after the Houthis dumped him unconscious in a trash site thinking he was dead said he saw the Houthi manned vehicle dump the body.

"After the vehicle left I approached him and found it to be a man that I thought was dead. But hovering closely over his body, I noticed that he was still breathing.

Speaking in the conference, one of Al-Mashriqi's brothers told reporters that after the torture story became a hot topic in the media "the militants sent a convoy of gunmen to besiege my father's house and force my father to give statements to their media to the effect that my brother burnt his skin."

The Director General of Al-Thawra, the main hospital in Marib, Mohammed al-Qubati had earlier said that Al-Mashriqi suffers second-degree burns in 25% of his body.

He said that probably an acidic material had been poured on him during the torture.



---

Three civilians injured among them child by Houthis' drone assault in Marib

Defense Minister visits headquarters of Joint Forces Command in Jizan

Masam removes 1,201 Houthi landmines within a week

70 breaches on Saturday by Houthi militias against the UN-sponsored truce

Houthi militias blamed for 1432 breaches of the UN-brokered truce in Taiz

Up to 165 breaches of the UN-brokered truce by Houthis over past couple of days

Human Rights Ministry condemns Houthi militias' crimes against civilians

Chief of Staff discusses with ICRC delegate situations of kidnapped in militia's prisons

Yemeni Network for Rights condemns Houthi burning of African immigrants' tents

PM visits Aden Refineries and reviews the steps to implement plan to restart it