[09/07/2018 12:38]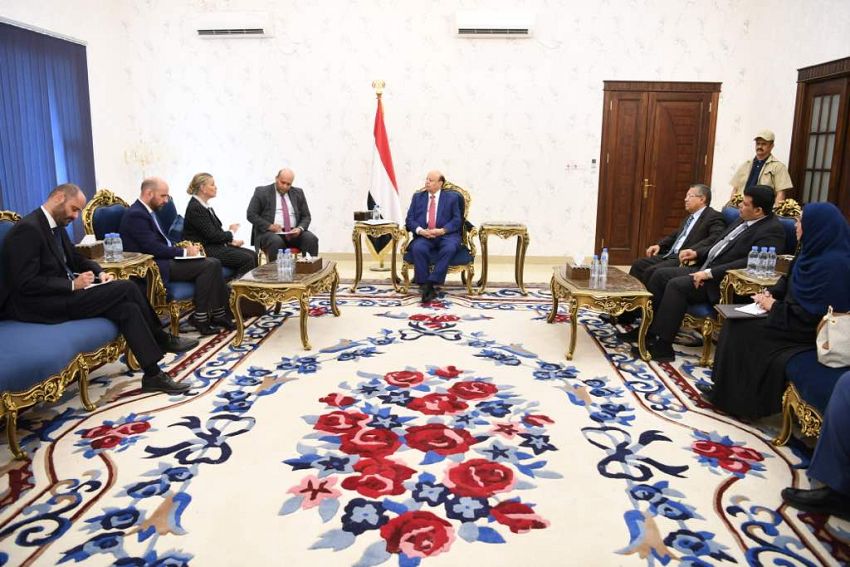 ADEN-SABA
President Abd-Rabbu Mansour Hadi stressed the importance of the UN efforts in identifying the Yemeni people's situation and meeting their urgent needs, in the aftermath of the Houthimilitia's war on the nation.

Hadi made the remarks during a meeting with the Humanitarian Coordinator Lisa Grande and her accompanying delegation in the temporary capital Aden on Monday.

Hadiexpressed his hope that the various UN missions operating in Yemen would convey the reality of the tragedy and misery that the Iran-backed Houthis had brought upon theYemeni people out of their disregardfor the UN resolutions, particularly resolution 2216.

"You should expand your activities and offices in Aden, Hadhramout and Marib as a first step to meet the growing needs and find out the reality of the situation closely,"Hadi told Grande.

Hadi said all facilitations will be offered to the UN missions to operate in the government-held territories.
"The Yemeni people are looking forward to the international community's support in meeting the basic requirements of life in five sectors; water, electricity, health, education and roads," he added.

Grande praised the efforts of Hadi to get Yemen out of the crisis and get it to move forward toward the desired future.
She showed readiness to provide all forms of support to Yemen to overcome the challenges and difficult situations, including in the field of humanitarian and medical relief.


---

Leadership Council chair praises GCC for supporting Yemen and its just cause

President al-Alimi congratulates Turkish president on winning elections

President al-Alimi convenes high-profile meeting includes Speakers of Parliament, Shura Council

President al-Alimi praises UK's support for the Yemeni people

President al-Alimi receives Ambassador of the People's Republic of China

President al-Alimi discusses with UAE President latest developments in Yemen

President al-Alimi arrives in Abu Dhabi

Presidential Leadership Council holds session to discuss developments in the country

Chairman of Presidential Leadership Council receives Egyptian Ambassador

President Al-Alimi continues to receive more congratulation from world leaders on Yemen's national day May 22