[21/05/2018 07:54]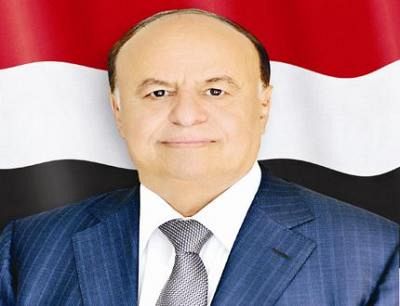 ADEN-SABA
President of the Republic Abd-Rabbu Mansour Hadi said:" Yemeni re-union is a great and historic achievement that Yemeni peoples have ever made, passed over the desire of both the colonial and theocratic powers, they made a history and geography that reflect magnificent civilization of great nation deeply rooted throughout humankind history. That is why our great people warmly welcomed and celebrated the moment of its birth May 22nd ,1990".

President Hadi's statement came in his address to the nation on the eve of the 28th Anniversary of the National Day of the Unification, May 22,1990.

The President has explained that there had been mistakes marred the unification course because of the political elite, however such misconducts and irresponsible behavior should never underestimate the historic event of the Yemeni re-union.

Hadi stated that Yemenis in north and south came to realize early that the unity was abducted by the political elite that capitalized on the unification to serve its selfish personal interests. Therefore, the Yemeni people in the south started its protests against the political regime in 2007, then the entire Yemeni peoples launched their mass-popular uprising in 2011.

In his address, President Hadi said:" From the first moment, we assumed the office we had come to realize that the re-union course was deviated from the right path and it must be corrected on fair basis". He added: " So, our vision was clear and we reached a unique national consensus in the Comprehensive National Dialogue."

The President went on saying: "The Yemenis of all political stripes came collectively up with the idea of the Federal State that ensures maintaining the unity through the proposal of a Federal Civil State that can produce equal citizenship, partnership in power and wealth and leave no room for the dynasties that dream of eternal ruling ".

President Hadi vehemently defended the Federal Sate Proposal, describing it as the new Yemen proposal that can ensure safe and prosperous future". Federal State Proposal constitutes the essence of the new Yemen that ensures a secure, stable and prosperous future for all Yemenis in the north and south".

The President blamed the Iran-backed Houthi militia's coup for spoiling the political transition process and implementing the outcomes of the National Dialogue." Basically the coup d'état deliberately targeting the Federal State Proposal", said Haid.

President Hadi came to say:" You should be confident that the proposal of the powerful federal Yemen that we jointly defend it today and advocate, is the best ever choice to secure the country and save it from dark future, it is also a genuine guarantee for our brethren's security who are making great sacrifices to maintain Yemen's unity and eliminate the Iran's scheme from Yemen".


---

President al-Alimi receives Norwegian foreign minister

Leadership Council chairman meets US Secretary of State

Leadership Council chairman receives UN Special Envoy

resident al-Alimi congratulates Italian President on his country's National Day

President al-Alimi receives American Ambassador

Leadership Council chair praises GCC for supporting Yemen and its just cause

President al-Alimi congratulates Turkish president on winning elections

President al-Alimi convenes high-profile meeting includes Speakers of Parliament, Shura Council

President al-Alimi praises UK's support for the Yemeni people

President al-Alimi receives Ambassador of the People's Republic of China