[26/04/2018 01:02]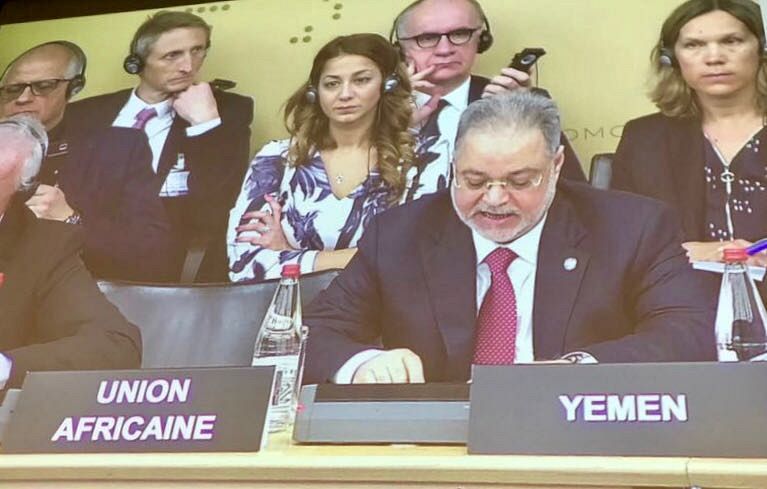 PARIS-SABA
Deputy Premier, Foreign Minister Abdulmalik Al-Mekhlafi stated that Yemeni government makes fighting terrorism a key priority despite of the formidable challenges it has been struggling with. He noted that some significant progress has already been realized in this regard over the recent three years; citing driving Al-Qaeda militants out of the city of Al-Mukalla as a case-in point.

Speaking at the International Conference to combat terror financing held in Paris preventing funding ISIS and Al-Qaeda, Al-Mekhlafi said:" My country, Republic of Yemen is one of the first nations that have been plagued by the blight of extremism and terrorism that have disastrious impacts upon Yemen's economy, security and stability over the recent two decades…..".

He went on saying:" Besides the notorious terrorist groups like Al-Qaeda, the Yemeni people today have been struggling with one more ultraconservative and sectarian radicalism and terrorism created by Houthi militia that has embarked on promoting an ultraconservative sectarian ideology".

The Foreign Ministry cited the efforts made by the Yemeni governments with the purpose of countering extremism." The Yemeni parliament had already approved in 2010 a national law aimed to control money laundering and terror financing. Some amendments were also made on the legislation in 2013", said Al-Mekhalfi.

Al-Mekhlafi blamed Houthi militia coup in 2014 for distracting the Yemeni government's resources and capacities away from focusing on combating the terrorism.

The Foreign Minister blames the International community for being reluctant about labeling Houthi militia as a terrorist organization. He said:" Because of the reluctance of the international community—except for Kingdom of Saudi Arabia and United Arab Emirates—about branding Houthi militia as a radical terrorism organization exercising armed violence, terrifying the Yemeni people and threatening international marine navigation, Yemen now has been facing an alliance between the gangs of smugglers, human-trafficking and money laundering and Al-Qaeda, Houthis and Iranian Revolutionary Guards".


---

Saudi program delivers 150 homes in Aden Governorate

Ambassador Al-Sunaini discusses with Japanese official ways to strengthen relations

President of Leadership Council receives UN Special Envoy

President al-Alimi arrives in Abu Dhabi on a state visit to United Arab Emirates

Miftah meets officials of the regional office of the Red Cross Committee and the French HandCap Organization

President Al-Alimi and King Abdullah II discuss Yemen developments, bilateral relations

Kuwait Fund signs grant pact with UNHCR to support infrastructure in Aden

President al-Alimi discusses joint collaboration with Jordanian government

President al-Alimi meets with Ambassadors of EU, Germany to Yemen

Yemen, Japan sign agreement about delaying Yemen's debts payments