[16/04/2018 05:52]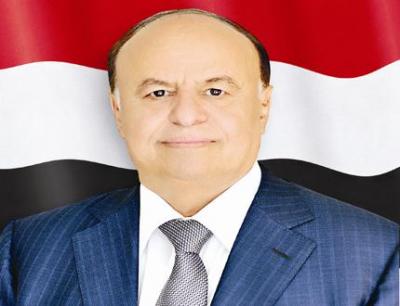 RIYADH-SABA
President Abd-Rabbu Mansour Hadi came back this evening to his temporary residence in the Saudi capital Riyadh following his active contribution alongside Arab leaders to the 29th Arab Summit held in the city of Al-Dharan, Kingdom of Saudi Arabia (KSA).

His Excellency (HE) addressed the Arab Summit in a word in which highlighted the difficulties Yemen has been struggling with as a result of Iran-backed Houthi militia's coup. The President highly applauded the Saudi-led Arab Coalition military intervention to counter the Iranian expansions ambitions and its spoiler sectarian scheme.

On the sidelines of the 29th Arab Summit, HE met with a number of Arab leaders to discuss issues of common interests.

HE President Hadi along with Vice President (Lt Gen) Ali Mohssen Saleh attended Monday the conclusion of the military exercise titled( Joint Gulf Shield 1). Several leaders of the counties which engaged in the exercise.


---

President Hadi receives GCC Secretary General

President Hadi praises significant advancements gained by armed forces in different flashpoints

President Hadi learns from Marib's Governor on the overall situation in the governorate

President Hadi: Wresting Bayhan districts from Houthi militiamen a step toward retaking all regions

Hadhramout Governor informs president on latest developments

President is briefed on the victories of the army in Osailan, Shabwa

President emphasizes activating COCA, revising performance of CBY

President receives Russian Ambassador on ending duty in Yemen

Shabwa new governor sworn in front of president Hadi

Mohammed bin Adyeu appointed advisor of the President of the Republic