[26/12/2017 08:59]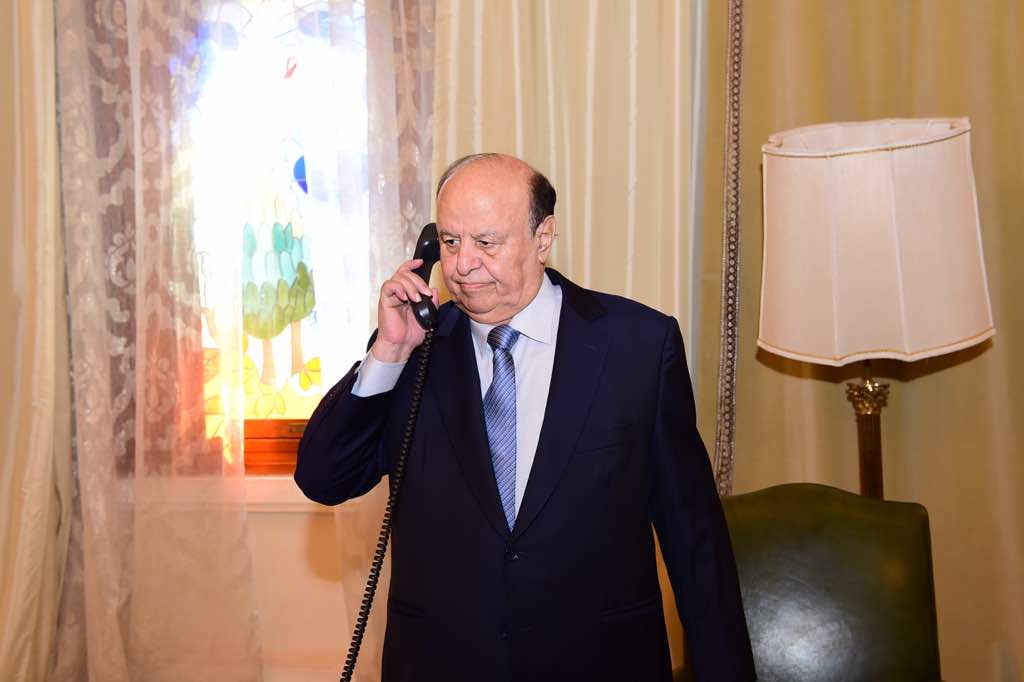 RIYADH-SABA
President Abd-Rabbu Mansour Hadi has emphasized on the importance of continuing the military operations against the Houthi rebel militia until all Yemen is liberated.

In a phone call with the commander of the 7th Military Region Maj. Gen. NaserAdhaybani and Sana'a Governor Abdul-Qawi Sharif on Tuesday, Hadi hailed the recent military advances in Nihm and Arhab to the east of the capital Sana'a.

Hadi emphasized on the importance of continuing the operations "to rid the country of the evil of this guerilla which turned (through coup d'état) against the national dialogue outcomes and embarked on killing the women, children and elderly, and on destroying and looting the public and private properties in disregard to our fundamental moral and humanitarian values.

Hadi said that uprooting the Iranian agenda in Yemen of which Houthis are the proxy has become an inevitable matter.

The governor of Sana'a thanked Hadi for the followup and said that Yemenis will achieve victory for their nationally agreed upon agenda; a federal Yemen where justice, partnership, equality and dignity prevail.


---

Yemen won't be fine as long as terrorist militias continue to kill & besiege our people, says Hadi

Hadi phone calls Marib governor to inspect situations

Hadi checks on health of Aden Governor, Minister of Agriculture

President Hadi orders probe into assassination attempt targeted Aden Governor, Agriculture Minister

President orders providing relief aid to those affected by the floods in Hadhramaut

President directs providing help to people in Hadhramout over heavy rains

President Hadi congratulates his Egyptian counterpart on the 6th of October Victory

President congratulates German counterpart on unity anniversary

President Hadi to Borrell: Our hands are still extended for peace

President Hadi meets German deputy foreign minister